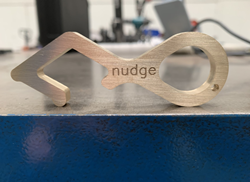 There is a clear need for Nudge, and we have been overwhelmed with the positive response to our campaign thus far.
LONDON (PRWEB) May 06, 2020
After Nudge's Kickstarter campaign surpassed its funding goal in 24 hours, Exel CNC has begun producing the everyday carry tool. With customers from all over the world, Nudge is the best tool for everyday use and protection from germs on public surfaces.
Understanding the immediate need for Nudge, the team started producing their product even before the campaign's conclusion. With the support of more than 240 backers from 10 countries, Nudge has more than doubled its funding goal.
"There are a lot of sensible solutions we'll employ in this new world we're facing," said Mark Hepworth, creator of Nudge. "There is a clear need for Nudge, and we have been overwhelmed with the positive response to our campaign thus far."
Unlike other tools designed to help with pushing buttons, opening doors and the like, Nudge is the only tool made of pure copper. This provides more durability than other similar tools while harnessing the maximum antimicrobial properties found in copper and copper alloys.
Recent studies found that the novel coronavirus can survive for up to four hours on a copper surface compared to 72 hours on plastic and steel surfaces or 24 hours on cardboard. Use Nudge to push ATM and elevator buttons, open public restroom doors and more. While the copper make will naturally rid itself of the virus eventually, it's still recommended to wipe Nudge down after use. Can't be too careful!
Nudge is available to pre-order starting at £13 and is expected to ship anywhere in the world beginning in May. To pre-order, visit the campaign at pr.go2.fund/nudge.
About Exel CNC
Exel CNC is a world class design and engineering company based in the UK with a proud heritage and focus on quality products. Our products and equipment have been shipped worldwide and we are experts in manufacturing and fulfillment.
Exel CNC traditionally makes robotics and automation devices but diversifies with innovative and useful products such as Nudge. We are fully equipped with state of the art CNC machinery allowing us to manufacture everything in house. This enables us to maintain the highest quality and attention to detail. Our global customer base and many repeat customers are a testament to our quality and level of after-sales service and support.