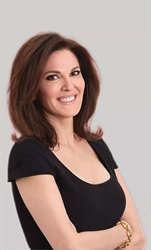 CONOVER, N.C. (PRWEB) September 10, 2020
Doris Day, MD is a board-certified dermatologist specializing in laser, cosmetic, surgical and aesthetic dermatology. A medical educator and a highly respected and sought-after media personality, Dr. Day has joined the advisory board at Nufabrx and will be a huge addition and major contributor in determining new products and ingredients.
Day joins the board alongside Dr. Stephen Ronan, Dr. Jason Bloom and Dr. Jack Fisher. She's had this particular concept in mind throughout her career and is so excited to be a part of the Nufabrx company to bring this idea to life. Dr. Day has an intensive career and has been a regular on The View, Good Morning America, Dr Oz Show, Doctor Radio and more and has been featured in various publications. Dr. Day will bring her years of expertise and creativity to the Nufabrx team to create product opportunities that will improve the well-being and confidence of consumers everywhere. Her compassion for her patients and loyal dedication to their health and overall wellness is a prime example of the principles in which Nufabrx was founded.
"We are extremely excited to have Dr. Doris Day joining our advisory Board. She has this revolutionary belief: Every single thing that contacts our skin should leave a positive impact on it. What a better starting point than the clothing that contacts our skin all day" says Jordan Schindler, CEO of Nufabrx. "Near limitless potential in combining Dr. Day's world-renowned experience with Nufabrx's revolutionary drug delivery technology; some earth-shattering innovation is coming."
Dr. Day has recently endorsed the latest development; Soliscia by Nufabrx. It is the first of its kind Reusable Facemask Infused with copper and Shea Butter to moisturize and revive dried out skin. It provides superior filtration properties and relief through active ingredients that are embedded directly into fibers. Soliscia is available for purchase at http://www.Nufabrx.com.
About Nufabrx®
Founded in 2011, Nufabrx® was created by Founder Jordan Schindler after discovering his pillowcase was contributing to his acne. Teaming up with MIT scientists, Jordan spent seven years developing proprietary technology to embed active ingredients into clothing to make medicinal application easier and more efficient. As a way to help our healthcare workers, reusable and moisturizing copper medical masks were a natural transition. Achieving overall health and wellness is simplified by using any Nufabrx® product, as a result of replacing the hassle and cost of using medications, patches or creams. The materials are specifically designed for comfort and breathability, providing a close fit and ease-of-wear, while simultaneously delivering a controlled dose of medicine to the problem area. Developed in tandem with Department of Defense and MIT grant funding, this patented technology allows ingredients like capsaicin, copper, and shea butter to be delivered directly through fabric. The pain relieving products are now available in the pharmacy sections of Walmart. TheraMasks and Soliscia were founded as a division of Nufabrx. For more information visit http://www.Nufabrx.com.
About Doris Day, MD
Doris Day, MD, is a board-certified dermatologist specializing in laser, cosmetic, surgical and aesthetic dermatology. She is a medical educator and a highly respected and sought-after media personality. Her patients consistently experience the benefit of her commitment to maintaining both her academic and media influence.
Dr. Day is a clinical associate professor of dermatology at the New York University Langone Medical Center. Her success in this role has been recognized with the award for Dedication and Excellence in the Teaching of Dermatology. This honor, along with her continued affiliation with Lenox Hill Hospital in New York City, demonstrates that Dr. Day is dedicated to lifelong learning. She shares her knowledge by regularly lecturing nationally and internationally, both to her peers and to the public on the latest in aesthetic dermatology techniques.
As the owner of a dermatology clinic, Dr. Day understands that medicine is continually evolving and she is committed to enacting change in the field of aesthetic dermatology. She is a member of many relevant national and international organizations including the American Society of Dermatologic Surgery, American Academy of Dermatology, Women's Dermatologic Society, NY State Dermatology Society, New York Facial Plastic Surgery Society, and the American Honors Society of Dental and Facial Aesthetics. She is enthusiastic about teaching other physicians the art and techniques of soft tissue fillers, laser treatments and facial rejuvenation.
Dr. Day is a devoted wife and mother of two adult children. She enjoys traveling, reading and spending time with her family. She especially loves sharing her important moments and insights about aesthetic dermatology with others. She is active on Instagram (@drdorisday), where she offers a glimpse into her own day to day experiences, both personal and professional.