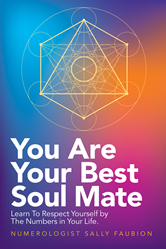 "My new book explores how to fully appreciate who you came on this earth to be from a numerological standpoint by respecting who you are by the numbers that are in your life."
SAN FRANCISCO (PRWEB) March 30, 2020
Self-love is so important, especially in this day and age. Professional Numerologist, Sally Faubion's new book, "You Are Your Best Soul Mate: Learn to Respect Yourself by The Numbers in Your Life," teaches the importance of learning to appreciate, respect and love one's self and to accept that every individual makes their own life by their thoughts, words and actions. Faubion shows the true and mystical science of numerology by expressing the steps of how to live life in a positive way.
Throughout the book, readers will experience the science of numerology and how to incorporate it into their lives. Faubion has been reading people for many years now. She decided to write her book because she noticed that individuals have a hard time reading themselves and loving themselves unconditionally. "You Are Your Best Soul Mate" dives into the steps of how to soulfully embrace self-love through a positive force.
"Being a professional numerologist, I have learned that the science of numerology offers information on people quickly and accurately," said Faubion. "My new book explores how to fully appreciate who you came on this earth to be from a numerological standpoint by respecting who you are by the numbers that are in your life."
"You Are Your Best Soul Mate" will help readers learn how to incorporate the numbers in their lives through self-love in a positive way.
"You Are Your Best Soul Mate: Learn to Respect Yourself by The Numbers in Your Life"
By Numerologist Sally Faubion
ISBN: 9781982240622 (softcover); 9781982240639 (hardcover)
Available at the Balboa Press Online Bookstore, Amazon and Barnes & Noble
About the author
Sally Faubion is an expert numerologist with over fifty years of using her abilities with numerology to help thousands of individuals to improve their lives, families, businesses and organizations. Faubion is based in San Francisco where she made a name for herself as one of the most sought-after spiritual advisors in the community. Her vast experience and passion for numerology make her a go-to for individuals, celebrities, Fortune 500 corporations and well-known organizations looking to better understand the mystical science of numerology. She is the author of "What Makes Your Child Tick" and "Motivational Numerology and How Numbers Affect Your Life." To learn more, please visit http://sallysnumbers.com/.
###
General Inquiries:
LAVIDGE – Phoenix
Grace Bywater
480-648-7534
gbywater(at)lavidge(dot)com