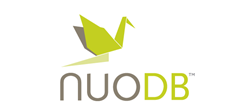 The NuoDB solution has matured rapidly due to generous feedback from hundreds of dedicated users, as well as learning derived from recent proof-of-concept projects.- Barry Morris, Founder and CEO, NuoDB
Cambridge, MA (PRWEB) August 06, 2013
NuoDB, Inc., the leader in NewSQL, announced the last release of their current product version and a technology preview of some upcoming second generation features available later in 2013. The preview is contained in the free download of the new NuoDB Starlings Release 1.2.
Product improvements in the release include support for a range of SQL functions, a preview of a unique and powerful implementation of stored procedures, and support for new drivers and frameworks.
Features in Release 1.2 and Technology Preview
Several SQL enhancements
A unique take on stored procedures (previewing in Release 1.2) that allows users to:

Scale-out to distributed servers for high performance; internal TPC-C style (DBT-2) testing shows 3X increase compared to previous release 1.1 test results;
Run stored procedures across multiple hosts in parallel;
Use SQL-based syntax for procedure specification, with a pluggable language model that can support high-level languages like Java, .NET and JavaScript.
Enhanced SQL math functions:
Aid the user to more easily manipulate and understand his/her data;
Enable straightforward migration of MySQL applications.
Enhanced command line tools:
Directly import MySQL backups from mysqldump files, when in mysql dialect mode;
Improved formatting of screen output for better readability.
More tools, drivers and frameworks
SQL Explorer improvements:
Schema Definition facility for defining new schemas, tables, columns, and keys via easy-to-use UI gestures;
Multi-line statements are now supported in the query window.
Tungsten Replicator preview with support for:
Live replication of a MySQL database to NuoDB, to simplify backend database infrastructure;
Running NuoDB side-by-side with MySQL to augment existing OLTP databases for scale-out performance and real-time operational intelligence.
Enhanced Python driver that:
Marries Python productivity and ease of programming with the simple elastic scale-out of NuoDB;
Exposes NuoDB management APIs to Python scripting environments.
An Open Source DJango driver in preview to:
Streamline application development in conjunction with NuoDB's scale-out architecture;
Benefit from the ease of Django's web application framework.
Overall quality improvements
More product hardening to:
Provide additional polish to the overall quality of the solution;
More than 200 improvements and fixes in the 1.2 update.
Release 1.2 and the technology preview can be downloaded for free here.
Supporting quotes
"I have engaged in a partnership of learning and collaboration with NuoDB. The product has matured and grown considerably during my involvement with them and I am confident about deploying it," stated Mark Overton, Application Architect and Developer at myZure.com.
"The NuoDB solution has matured rapidly due to generous feedback from hundreds of dedicated users, as well as learning derived from recent proof-of-concept projects in which our engineering team has been working directly with customers," stated Barry Morris, CEO and Co-Founder of NuoDB, Inc.
"In response to those requests, we have added a number of "table stakes" features to Release 1.2 to align it even more closely with the SQL syntax, programming languages and frameworks our customers are familiar with and rely upon," concluded Morris.
About the NuoDB Starlings release
NuoDB is an innovative distributed database that can be deployed in any datacenter, in any cloud, anywhere, without the compromises inherent in other NewSQL solutions. The release also eliminates the need for the complex database workarounds like clustering, performance tuning and sharding that are typically associated with bringing applications to the cloud.
About NuoDB
Everyday businesses face serious challenges coping with application performance, maintaining business continuity and gaining operational intelligence in real-time.
NuoDB leads the industry with a proven NewSQL solution to solve all these challenges. It provides a unique combination of scale-out performance, zero downtime and geo-distributed data management. It's an operational DBMS to handle transactions, interactions and observations anywhere.
Launched in 2010 by industry-renowned database architect Jim Starkey and accomplished software CEO Barry Morris, the company is based in Cambridge, MA. Used by thousands of developers worldwide, NuoDB's customers include automotive after-market giant AutoZone, NorthPoint Solutions and other innovative companies.
The company is the recipient of numerous, prestigious industry awards including: Gartner Cool Vendor and The Red Herring Top 100. http://www.nuodb.com.