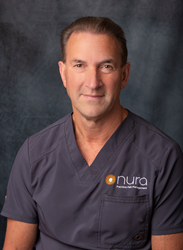 Chronic pain never takes a break – regardless of the pandemic ... We don't want cost to stand in the way of patients' care ...
MINNEAPOLIS (PRWEB) December 14, 2020
Nura pain clinics founder and CEO, David Schultz, MD, has been honored as a "Notable Hero in Health Care" by Twin Cities Business. This is the first time the magazine has recognized outstanding individuals within the health care profession.
In recognizing Dr. Schultz, Twin Cities Business noted that early on in the pandemic when COVID-19 forced at-risk individuals into isolation, Dr. Schultz determined Nura would focus its mobile nursing team on providing free in-home care for high risk patients with implanted pain pumps who lacked in-home healthcare insurance. Without this extraordinary step these patients were at increased risk for contracting COVID by traveling to the pain clinic or, if their chronic pain was left untreated, of developing a dependency on opioids or ending up in hospital beds the state was striving to reserve for potential pandemic patients.
Nura has committed to continue offering this free service for those in need until the crisis has passed.
"Chronic pain never takes a break – regardless of the pandemic, and the need for the people to stay at home and limit travel," stated, Dr. Schultz. "We don't want cost to stand in the way of patients' care during these unsettling times. Therefore, early on we decided to use our mobile team of Home Care nurses to provide in-home visits or telehealth visits, regardless of insurance coverage, for patients unable to come into our clinic until this crisis is past. These nurses are the true heroes."
According to the magazine, the inaugural, "Notable Heroes in Health Care" series recognizes doctors, nurses, directors, CEOs, diversity officers, and medical advisors, among others. The honorees represent large hospital systems, private practices, insurance and pharmacy care companies, and more. The individuals serve on the front lines and behind the scenes, fighting Covid-19 and working to keep Minnesotans as healthy as possible. "I can't imagine a more fitting time to spotlight the work of so many impressive individuals in our health care community who don't often get singled out for their vital efforts," said Allison Kaplan, editor-in-chief, Twin Cities Business.
"We at Twin Cities Business are honored to use our platform to spotlight the people who keep all aspects of our health care system running so smoothly, even in the midst of a pandemic."
Honorees were determined based upon an editorial review of nominated individuals. To qualify, candidates had to be serving in a C-suite or senior-level administrative or clinical role in Minnesota, have at least five years of experience in health care, and have shown the ability to create significant, positive, and measurable results in their field. Individuals could not pay to be included.
It is the second time this year Dr. Schultz has been recognized for spearheading efforts to help those in need during the pandemic. In May, Minnesota Physician Publishing recognized Dr. Schultz as one of seven outstanding "Community Caregivers." The annual program "recognizes physicians and health care providers who have volunteered their medical services. Whether volunteering at home or overseas, these caregivers help people in need and come away with a revitalized sense of their work. Their compassion, commitment, and generous spirit reflect the deeply held values in Minnesota's medical community."
In presenting the honor, Minnesota Physician noted, that Dr. Schultz's initial decision to offer the free in-home care service came at a time when Nura had been forced to furlough 50% of its staff due to the suspension of elective procedures.
In regard to the recognition the program has received over the last several months, Dr. Schultz observed, "It's simply the right thing to do."
About Dr. Schultz and Nura Pain Clinics
Dr. Schultz is one of the country's leading authorities on interventional pain management. He and his clinic are focused on using advanced science and technology to provide patients with powerful pain relief while minimizing the use of systemic opioids. In September of this year, Nura was one of five organizations to receive a grant from the Minnesota Department of Health focused specifically on its non-narcotic options for treating pain.
Nura (formally MAPS Medical Pain Clinics) was founded in 1995 by Dr. Schultz. Today, Nura's multidisciplinary approach includes medication management, physical therapy and behavioral health coordinated with minimally invasive interventional procedures such as nerve blocks, spinal injections and nerve ablation. For more complex chronic pain problems, Nura offers a full range of implantable pain control options including spinal cord stimulation, dorsal root ganglion stimulation, peripheral nerve stimulation and targeted spinal drug delivery. Nura's mission is to give chronic pain sufferers their lives back.
For more information about Nura's pain management programs, visit: https://www.nuraclinics.com/, or call (763) 537-6000.