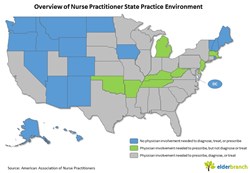 New York, NY (PRWEB) August 28, 2013
According to the Association of American Medical Colleges, the United States currently has a shortage of 9,000 primary care physicians. With the expansion of insurance coverage under the Patient Protection and Affordable Care Act, that figure is expected to grow to 65,800 by 2025. The situation is similarly bleak for seniors seeking specialized geriatric care, with a shortage of 10,100 geriatricians today; a figure that will grow as 10,000 baby boomers hit retirement age per day between now and 2030.
As discussed in more detail by ElderBranch, efforts are underway across the country to expand the authority granted to nurse practitioners (NPs) to help meet the large and growing demand for primary care services. According to the National Conference of State Legislatures, 178 proposals to expand the types of services that 22 different health care professions, including NPs, can offer have been considered in 2013. Massachusetts, Michigan, Pennsylvania, New Jersey, and Nebraska are currently considering laws that would give NPs total independence, and California is now considering a scaled-back version of a similar bill.
What is a Nurse Practitioner?
Nurse practitioners are registered nurses ("RNs") who have acquired, through a master's, postgraduate, or doctorate degree, advanced clinical knowledge and skill in diagnosing, determining treatments, and prescribing medications. Upon completion of graduate education, NPs are able to evaluate patients; diagnose, order and interpret tests; initiate and manage treatments; and prescribe medications.
A Review of the Research Suggests NPs Provide High Quality Care
In 1981, the United States Office of Technology Assessment published a seminal report, titled "The Costs and Effectiveness of Nurse Practitioners." The report found that the quality of medical care services provided by NPs is "at least comparable to the quality of services provided by physicians themselves. Furthermore, in some cases, physician extenders (NPs) have shown performance superior to physicians in symptom relief, diagnostic accuracy, and patient satisfaction."
Over the past 32 years since this report, there have been hundreds of studies published in peer-reviewed journals that have all come to a similar conclusion: nurse practitioners can be substituted for physicians in a significant portion of medical services with at least comparable, and sometimes better, outcomes.
The overwhelming evidence supporting greater use of nurse practitioners has started to catch the attention of legislators. In December 2012, the National Governor's Association (NGA) reviewed 22 articles comparing the care of NPs and primary care physicians. The NGA found that NPs provided at least equal quality as compared to physicians in terms of patient satisfaction, time spent with patients, prescribing accuracy, and the provision of preventative education, as well as more outcomes-related measures such as decreased cholesterol, blood pressure, and weight. The NGA's report, titled "The Role of Nurse Practitioners in Meeting Increasing Demand for Primary Care," concluded that "to better meet the nation's current and growing need for primary care providers, states may want to consider easing their scope of practice restrictions and modifying their reimbursement policies to encourage greater NP involvement in the provision of primary care."
Nurse Practitioner Regulations Vary Significantly by State
Despite the large body of evidence that NPs provide high quality primary care, only 17 states and the District of Columbia currently provide for NPs to work at the peak of their training and licensure without the supervision of physicians, in keeping with NGA recommendations. In these states, NPs are able to set up their own primary care practices and see patients autonomously, significantly increasing the supply of primary care services.
An additional 8 states allow nurse practitioners to diagnose, treat, and refer patients independently, but not prescribe medications without the involvement of a physician. The remaining 25 states require that physicians be involved in NPs' decisions on diagnoses and/or treatments.
The current and growing shortage of primary care physicians and geriatricians will ultimately necessitate that state and federal regulators make changes to ensure that access to care meets the increased demand associated with expanded insurance coverage and a larger geriatric population. Most proposals to increase primary care services have focused on increasing the number of residency slots in internal medicine or implementing loan forgiveness programs for primary care physicians. While these are important and potentially effective proposals, an alternative and evidence-based approach, that is also more cost effective, would be to remove scope of practice laws for nurse practitioners nationwide.
About ElderBranch
ElderBranch is an online information portal that helps people find and evaluate long-term care providers. ElderBranch's mission is to support users in making the best decision possible for themselves and their loved ones.