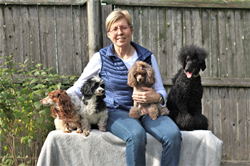 With Pet Wants, I can combine my love of healthcare with my passion for taking care of pets in a way that makes life even easier for my customers through personal delivery. - Heather Thomas
NEWPORT, R.I. (PRWEB) November 29, 2021
Throughout her nursing career, Heather Thomas has always enjoyed working with patients to provide the most compassionate, comprehensive care possible. Now she's looking forward to bringing that approach to her pet food and supplies company – Pet Wants Newport.
Pet Wants' specially-crafted, private-label pet food formulas are made in small batches with fresh, natural ingredients enhanced with vitamins and minerals for a complete and balanced diet in every bowl, all made in the USA. Pet Wants Newport has multiple blends of dog and cat food formulas, treats, chews, as well as healing salve, calming balm, anti-itch spray, paw wax and more.
"I'm looking forward to getting to know the pet families in the area, talking to them about their pets needs and helping them find products I know they'll love. With Pet Wants, I can combine my love of healthcare with my passion for taking care of pets in a way that makes life even easier for my customers through personal delivery," Thomas said.
As a mobile business, Pet Wants Newport offers free, personal delivery to Somerset, Fall River, Bristol, Tiverton, Little Compton, Portsmouth, Middletown, Newport, Jamestown and the surrounding areas. Pet Wants has a money-back guarantee on the freshness and quality of the food, the company only sources the best salmon, chicken, lamb, brown rice and other ingredients available. There's no sugar added, no fillers and no animal by-products and Pet Wants never uses corn, wheat, soy or dyes, which makes the food great for animals with allergies.
"We are healthy eaters, but I swear my dogs eat better than I do. It's challenging because we are able to make our own decisions when it comes to nutrition, but our pets have to eat whatever we give them. Generally, if we eat healthier food, we'll live longer, healthier lives. The same is true for our pets," Thomas said.
Thomas is a Registered Nurse and, most recently, she worked for an in-home care company as their on-staff RN. While she enjoyed nursing, COVID took its toll and she was ready for a change. As she was thinking about her next steps, she went back 20 years to her favorite job… as a clerk at Petco.
"Being surrounded by people who are excited to talk about their pets is an amazing way to spend your day. I'm hoping to bring that kind of energy to my life with Pet Wants," Thomas said. "I joined pet wants to help educate others about feeding good nutritious food to their pets. My mission is to educate my customers about the benefits of feeding high quality pet food and treats and to deliver the high quality pet food and treats right to their door."
To learn more about Pet Wants Newport, call 401-297-8467, email HThomas@PetWants.com or visit https://www.petwants.com/newport/.