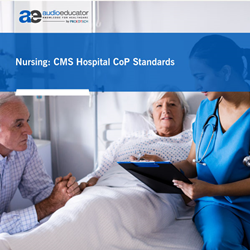 Learn about the proposed changes under the Hospital Improvement Rule, and the recent CMS memos of interest relating to hospital deficiencies
DURHAM, N.C. (PRWEB) December 20, 2018
AudioEducator, a division of audio conference and corporate education leader ProEdTech, will host a 120-minute live webinar titled "Nursing: CMS CoP Standards for Hospitals and Proposed Changes 2019 Update" by Sue Dill Calloway on Tuesday, January 8, 2019.
According to the CMS deficiency reports on the most problematic standards for hospitals, nursing services have been cited over 4,740 times in the recent past. The scrutiny and surveillance to ensure compliance with hospital conditions of participation (CoPs) has increased, and the proposed nursing chapter changes in 2019 have added a new dimension of complexity. If a facility accepts Medicare and Medicaid reimbursement, it cannot afford to be caught off guard and put reimbursements at risk.
In this webinar, industry expert Sue Dill Calloway will share the inside scoop on the 2019 CMS nursing CoPs for hospitals. Calloway will walk through the nursing services section in the hospital CoP manual, and the significant changes to standards that hospitals are still struggling to comply with—such as medication management, IV, blood, and opioid safe use. Attendees will learn about the proposed changes under the Hospital Improvement Rule, and the recent CMS memos of interest relating to hospital deficiencies, safe injection practices, new interpretative guidelines, and more.
This session will also provide insights on other important sections that all nurses should be aware of, such as those that are found outside the nursing services section, like: medication standards, verbal orders, history and physicals, visitation, restraint and seclusion, grievances, discharge planning standards, and privacy and confidentiality. Calloway will also apprise attendees of the problematic standards for hospitals; educational requirements; changes in standing orders and protocols; CMS' deficiency reports, and the problematic tag numbers that one should be aware of to ensure compliance.
This webinar will be useful for facilities accredited by the Joint Commission, Health Care Facility Accreditation Program, CIHQ, and DNV Healthcare, who are also required to follow these regulations.
Session Highlights
This in-depth 120-minute webinar on hospital CoPs will bring attendees up to speed with key areas, such as:

CMS hospital CoPs / CMS nursing CoPs
CMS deficiency reports and problematic standards
How to get apprised of changes
Changes to medication management, IV, blood, and opioid safe use
Proposed changes under the Hospital Improvement Rule
ISMP IV push guidelines
Safe injection practices
Changes related to safe injection practices, compounding, medication preparation, immediate use, and labeling
Revised CMS hospital work sheets and importance
Recent CMS memos of interest
Other important sections nurses should be aware of:
o Restraint and seclusion changes
o Grievances
o Medications policies
o Visitation
o History and physicals

Who Should Attend
Chief nursing officers
Nurses, nurse managers, nurse supervisors, and nurse educators
HIM staff
Compliance officers
Chief of medical staff and medical staff coordinators
Risk managers
Patient safety officers
Documentation specialists, hospital legal counsel
Regulatory officers
COOs and CMOs
Physicians
Audit staff
For more information on CMS Nursing CoPs and to register for this webinar, visit: https://www.audioeducator.com/hospitals-and-health-systems/cms-nursing-cop-standards-for-hospitals.html
Get 25% off on our webinars. Use Code PRWEB25 on checkout.
About ProEdTech
ProEdTech is a leading source of knowledge and training for professionals in over 15 industries, serving individuals, businesses and their employees around the globe. It offers webinars, online conferences, seminars, boot camps, books, DVDs, white papers, industry reports and other learning tools from industry experts and insiders who provide a fresh perspective on key issues, trends and regulations in order to simplify governance, risk and compliance (GRC) for enterprises and industry professionals. ProEdTech's AudioEducator webinars offer updates, regulatory knowledge and information on the latest news in various medical specialties, as well as coding and billing updates, and analysis of regulations that affect ambulatory surgical centers, home health, long term care and hospice facilities, hospitals and healthcare systems, health insurers and physician practices. ProEdTech's Eli Financial platform offers tax and banking professionals, focusing on providing high-quality online training products customized for U.S. lenders and tax practitioners that include the latest updates from the IRS, CFPB and other regulatory authorities. Webinars are also offered through AudioSolutionz in the technology, human resources, construction and housing, ICT and telecom, manufacturing, consumer packaged goods and retail, safety and security, transportation, energy and environment, education, trade, and chemicals industries. ProEdTech regularly provides professionals the opportunity to get answers to their most complex questions directly from experts, without having to attend costly live conferences. To learn more, visit: http://www.proedtech.com.