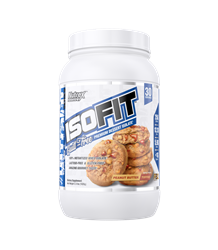 Don't settle for less than ultra-clean IsoFit, made with MCT oil powder and organic agave inulin fiber instead of inferior inflammatory thickening agents.
OVIEDO, Fla. (PRWEB) October 24, 2018
By now, you've probably heard of Nutrex Research. Nutrex is a growing athletic nutrition company that already boasts an incredible variety of excellent supplements and a superstar lineup of title-winning athletes. The company has been focused for some time on growing and perfecting their line up of weight loss supplements, like their popular Lipo-6 line, pre workouts, and their muscle recovery products, including the hard-working Drive line. While their line up of supplements definitely covers every aspect of your growth as an athlete, Nutrex only offered two actual protein powder products – until now.
The supplement company's protein line up, until now, was built of Muscle Infusion, an Advanced Multi Protein Blend that focuses on muscle growth by blending several performance proteins together, and Mass Infusion, a protein weight gainer. Mass Infusion is an advanced weight gain formula supplying your body with 50 grams of high-quality protein per serving, over 1,120 calories along with 200 grams of carbohydrates. Its nutrient dense formula is ideal for those athletes that are seeking to gain weight fast and become bigger and stronger.
Nutrex's newest offering is aptly named IsoFit. As you can guess this is a whey isolate protein with one powerful protein source. Nutrex however calls IsoFit their Premium Dessert Isolate, featuring tempting flavors such as Bananas Foster, Chocolate Shake and Peanut Butter Toffee. This is what the Nutrex Research website had to say about their great tasting (and effective) new product:
"IsoFit is our purest whey protein isolate ever. It's ultra-fast digesting and absorbing for the ultimate muscle recovery support after intense training or anytime of day. Every serving of IsoFit is jam-packed with essential amino acids (EAAs), including branched chain amino acids (BCAAs), that ignite muscle protein synthesis…Don't settle for less than 'ultra-clean' IsoFit, made with MCT oil powder and organic agave inulin fiber instead of inferior inflammatory thickening agents. Plus, our award-winning flavors and easy mixability make every scoop of IsoFit a satisfying dessert to any workout."
IsoFit contains 25G of instantized whey protein isolate per serving, and a whopping 5.9G of BCAAs and 12.2G of EAAs. Cross-flow microfiltration also helps maintain the biological activity of proteins. Nutrex also never amino spikes.
IsoFit has been a long time coming for Nutrex Research, but this Premium Dessert Isolate is worth the wait. Quality protein that's fast digesting and absorbing is exactly what customers are looking for and Nutrex delivered with laser-targeted perfection. Learn more at nutrex.com/product/isofit.