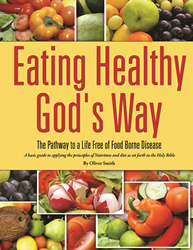 Mankind should receive all of the blessings that God has for us.
SACRAMENTO, Calif. (PRWEB) October 13, 2019
Within the pages of Oliver Smith's new book, Eating Healthy God's Way ($12.99, paperback, 9781613799253; $6.49, ebook, 9781619969759), readers will find a book that informs the children of God that the Holy Bible provides a basic guide to applying the principles of nutrition and health. Additionally, the book identifies book and chapter of the verses that addresses foods to avoid as well as foods to eat for health and for medicine.
Smith believes children of God are dying too young. The Center For Disease Control's (CDC) list of top ten causes of death. Nine of the top ten causes of death are food borne diseases. Avoid CDC's list and identify the foods that are designed to keep the body disease free.
"I'm hoping readers will gain understanding that there are consequences for avoiding God's instructions regarding the foods God designed specifically to be eaten by people of every culture on all seven continents of this earth," says Smith. "On average, woman and man's time on earth is significantly reduced from the 120 years that the human body is designed to live. Mankind should receive all of the blessings that God has for us."
Oliver Smith is a legal researcher, investigator, paralegal, nutritionist/naturalist, care provider, and consultant whose background, training, and experience as a child of God qualify him uniquely to write for the public as well as the human community regarding food provided for man by God. This is also a book that is grossly overdue and vital to the well-being of all God's children in America and around the world who are suffering from the effect of any of many food borne diseases.
Xulon Press, a division of Salem Media Group, is the world's largest Christian self-publisher, with more than 12,000 titles published to date, Eating Healthy God's Way is available online through xulonpress.com/bookstore, amazon.com, and barnesandnoble.com.