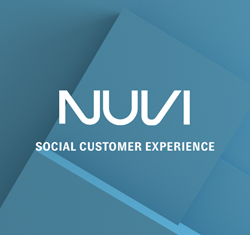 "Nuvi is helping our team build insightful social strategy and content plans using in-depth, data-driven analytics and real-time social listening!"
LEHI, Utah (PRWEB) March 12, 2020
Nuvi launches new comprehensive collaboration and engagement solutions to its well-known social analytics platform. These solutions allow brands to provide high-quality customer experience at each touchpoint of the customer journey. The platform includes a suite of unified products — Listen, Plan, Publish, Engage, and Analyze — that grant Enterprise teams the ability to easily discover, form, and enact their customer experience strategies across all social and other online platforms. Nuvi's solutions are an all-encompassing approach to bridging the gap between companies and customers, anchoring them together for years to come.
Nuvi's Social Customer Experience Solutions:
Listen- Monitor your audience with Nuvi's all-new, industry-leading Language Engine. The Engine has an 80% sentiment prediction accuracy, attained through analysis of eleven language factors across millions of online sources. This analysis provides companies with actionable, real-time insights that inform their customer experience strategies.
Plan- Implement your insights into customer-centric strategies with easy to use collaborative tools. Team collaboration and approval made easy.
Publish- Enact your strategies with permission-based publishing tools and transform ideas into published brand collateral that resonates with customers.
Engage- Actively reach and impact the conversations around your brand and industry in real-time across social and other online platforms.
Analyze- Measure campaign or product performance with rich analytical gathering software that reveals how you can best leverage your audience's social data.
Nuvi's new focus on social customer experience and their suite of solutions required a fresh face. Check out their new website to learn more about Social Customer Experience (link: https://nuvi.com/). Additionally, their webinar Increase Revenue with Social Customer Experience (link: https://nuvi.com/webinar/) is the first of many installments discussing Nuvi's new tools and social CX.
About Nuvi:
Nuvi is the social customer experience platform. Each of our solutions helps companies manage their customers' journey touchpoints to provide the most satisfying online experience and develop customer loyalty. We do this by providing unbiased experience data and analytics collected through digital media listening and streamlined team collaboration tools.