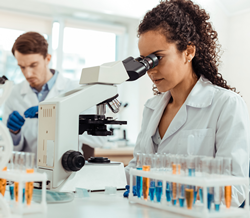 The high cost of cancer, from diagnostic procedures like biopsies to various treatments and prescription cancer medicines, has become unbearable for patients. There needs to be a change.
PARK CITY, Utah (PRWEB) November 16, 2020
Cancer costs in the United States for 2020 could reach approximately $150 billion, while the out-of-pocket expenses for the average American worker could take up to 70% or more of their monthly income. To put those numbers in perspective, the average gross pay in the US is $3,600 a month. Furthermore, 20% of cancer patients report spending as much as $20,000 out of pocket during the course of their care for drugs like chemotherapeutic agents and treatments like radiation therapy, etc.(1) "The high cost of cancer, from diagnostic procedures like biopsies to various treatments and prescription cancer medicines, has become unbearable for patients. There needs to be a change," says Paul J. Crowe, CEO of NuView Life Sciences, a clinical-stage oncology firm in Utah.
Biopsies are one of most common methods used to diagnose cancer. This procedure, which involves the removal of a small sample of suspect tissue for further testing, varies greatly in cost—some procedures, like skin biopsies, may cost as little as $150. But for major organ biopsies, patients without health insurance may be on the hook for as much as $10,000 or more.(2) For patients covered by health insurance, copays generally range from 10 to 40 percent of the total cost. And while most simple biopsies generally do not require hospitalization, major organ biopsies usually do, which adds additional expense on top of the already pricey biopsy copayment—not to mention the possibility of infections, bleeding and other complications that would add to the costs
According to a 2019 study in the American Journal of Public Health, 66.5% of all bankruptcies in the US result from the inability to pay medical expenses—regardless of health insurance, the high deductibles, copays, increasing monthly premiums, loss of income, and high cost of prescription cancer drugs contribute to this impact.(3)
Another factor that has to be taken into consideration is the cost of cancer treatment itself. On average, chemotherapy costs between $1,000 and $12,000 per session (depending on the drugs used and the severity of the cancer).(4) According to the American Cancer Society, in 2014, Americans spent roughly $4 billion out of their own pockets for cancer treatments. And since there are over 200 identified forms of cancer, it is impossible to predict just how many prescription cancer drugs or other treatments, like radiation therapy, a single person may need. (5)
The Future of Cancer Diagnoses and Treatment
New imaging technologies in radiology, such as biochemical positron emission tomography (PET) imaging combined with magnetic resonance imaging (MRI) or computed tomography (CT) anatomical imaging have made great strides in detecting cancer. Now, NuView Life Sciences has developed a unique and proprietary binary test that would more accurately diagnose cancer by targeting only cancer cells.
As a first-of-its-kind technology, NuView Life Sciences combined their proprietary NV-VPAC1(TM) peptide construct with the radionucleotide Copper-64 [(64)Cu] for diagnostics and Cu for treatment. Research shows that malignant cells accumulate (64)Cu in much greater quantities compared to normal, healthy cells.(6) As a result, the NV-VPAC1 peptide construct targets cancer cells, binding to specific receptors, called VPAC1 receptors, which are overexpressed on the surface of cancer cells.
Healthcare providers can easily view this accumulation using PET diagnostic imaging, eliminating the need for more expensive—and invasive—diagnostic tests like biopsies. NV-VPAC1™ also identifies cancerous cells shed from the body in biofluids like urine, thus offering diagnosis without radiation.
NV-VPAC1™ also helps transform cancer treatment into a more precision-based and personalized process. In addition to (64)Cu, the peptide construct also carries Copper-67 [(67)Cu], another radioisotope that contains enough radioactivity to destroy cancer cells. Another factor to consider, (67)Cu also has a half-life of 2.5 days, which limits exposure to unnecessary radioactivity during the course of treatment.(7)
After pausing the investigative process due to the COVID-19 pandemic, NuView plans to resume clinical trials at several major medical institutions. The company, which hopes to go public within the next three years, is confident that NV-VPAC1™ will outperform other cancer diagnostic and treatment methods, saving patients and the healthcare system as a whole a substantial amount of money.
"NV-VPAC1 is a unique binary molecular tool, with the ability to diagnose cancer in vivo and in vitro, to treat primary and metastatic lesions, and to allow one to determine the efficacy of therapeutic interventions," says Dr. Mathew Thakur, who invented NV-VPAC1™ along with a team of colleagues at Thomas Jefferson University in Philadelphia, PA.
"When you take into consideration that diagnosing and treating cancer may be accomplished without the expensive and invasive tests currently available, we at NuView Life Sciences are confident NV-VPAC1(TM) will revolutionize and transform the field of oncology," said Crowe.
About NuView Life Sciences
Founded in 2005, NuView Life Sciences is a clinical-stage oncology company located in Park City, Utah, influencing the way cancer is diagnosed and treated in our modern healthcare system. NuView is focused on creating precision binary cancer diagnostics and Theranostic applications. The development and clinical implementation of NuView's exclusive peptide analog technology, NV-VPAC1(TM) provides clinicians more choices to improve patient outcomes while reducing healthcare costs. Led by a team of industry experts with decades of multidisciplinary experience in healthcare, NuView is poised to introduce a new cancer diagnostic technology and subsequently deliver a Theranostics approach for effectively observing and treating a variety of cancers. To learn more, visit http://www.nuviewlifesciences.com.
1. McGrail, Samantha; "Cost of Cancer Reaches Nearly $150B Nationally"; 15 January 2020; Health Payer Intelligence; healthpayerintelligence.com/news/cost-of-cancer-care-reaches-nearly-150b-nationally.
2. Cost Helper; health.costhelper.com/biopsy.html; accessed 28 October 2020.
3. Cussen, Mark P.; "Top 5 Reasons Why People Go Bankrupt"; Updated 24 February 2020; Investopedia; investopedia.com/financial-edge/0310/top-5-reasons-people-go-bankrupt.aspx.
4. Asbestos.com; "High Cost of Cancer Treatment"; asbestos.com/featured-stories/high-cost-of-cancer-treatment/.
5. The Costs of Cancer: Addressing Patient Costs. American Cancer Society Cancer Action Network, Apr. 2017, fightcancer.org/sites/default/files/Costs%20of%20Cancer%20-%20Final%20Web.pdf.
6. Gutfilen, Bianca, et al. "Copper-64: A Real Theranostic Agent." Drug Design, Development and Therapy, Dove Medical Press, 2 Oct. 2018, ncbi.nlm.nih.gov/pmc/articles/PMC6173185/.
7. "Clarity Pharmaceuticals Signs Copper-67 Supply Agreement with ISU Idaho Accelerator Center." Idaho State University, 2020, isu.edu/news/2020-spring/clarity-pharmaceuticals-signs-copper-67-supply-agreement-with-isu-idaho-accelerator-center.html.