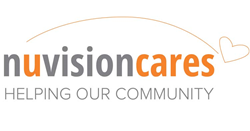 "We didn't want to launch some television commercial or PSA telling people that we care, we wanted to help fight this thing out on the frontlines where we can make a difference." said Tom Sweet, SVP of Marketing at Nuvision Credit Union.
HUNTINGTON BEACH, Calif. (PRWEB) April 19, 2021
In the midst of the Coronavirus crisis, Nuvision Credit Union has never lost sight of their core mission or values. For over 85 years Nuvision has been serving hard-working people who are the backbone of our country; now, they are serving those who are serving us all during our time of need.
Nuvision Credit Union is launching its NuvisionCares initiative, a program that will provide meals from local restaurants to our heroes on the frontlines of the COVID-19 battle. The NuvisionCares initiative is designed to help provide a little bit of normalcy and peace of mind for our frontline medical heroes during one of the most challenging times they have ever faced.
"These people are heroes, who even during normal times work incredibly long stressful hours in jobs where they are rarely recognized for their hard work," said Roger Ballard, CEO of Nuvision Credit Union. "The NuvisionCares initiative gives our vital caregivers one less thing to think about when they come home to their families."
Starting April 13th, Nuvision will kick off the program at CHOC Children's Hospital in Orange County. Doctors, nurses, and other frontline medical professionals from CHOC will be given free meals up to $25 that they can order at five participating restaurants near the hospital. On top of giving our frontline caregivers a little needed relief, the program will provide much-needed support and income to employees at these five local small businesses who will benefit as a result of the NuvisionCares initiative.
The five restaurants that will participate in the NuvisionCares program are Rib Trader, Tutto Fresco, Don Jefe Jalapenos, Cortina's Italian Eatery, and Amarith Café.
"Nuvision Credit Union really helped us to be able to take care of our employees during their time of need. Because of the NuvisionCares program, we were able to bring our crew back in and give them the ability to earn some vital extra income," said Mehdi Karr owner of Rib Trader in Orange, California.
"We didn't want to launch yet another television commercial or PSA telling people that we care, we wanted to take that money and go fight this thing out on the frontlines where it can really make a difference," said Tom Sweet, SVP of Marketing at Nuvision Credit Union. "Our healthcare workers are making enormous sacrifices for us, if we can help make their day a little brighter then that's what we are going to do."
If you would like to know more about the NuvisonCares program you can visit the webpage at https://nuvisionfederal.com/blog/blog-post/memberresources/2020/04/13/nuvisioncares. If you would like to get involved or make a donation to help expand the program, Nuvision has a GoFundMe campaign where they will use 100% of the donations to help more healthcare heroes and local small restaurants. They are also asking people to help raise awareness by using the hashtag #NuvisionCares on social media.
Nuvision Credit Union will be bringing the NuvisionCares program to Cheyenne, Wyoming and Anchorage, Alaska where they will be buying meals for doctors, nurses and medical workers at Providence Hospital in Anchorage and Cheyenne Regional Medical Center. This is just one of several community initiatives that Nuvision Credit Union has launched to help the communities they serve through the COVID-19 Pandemic.
While some credit unions have struggled to launch the Small Business Administration's Paycheck Protection Program, Nuvision was ready and up and running from day one and has already begun approving a significant number of SBA PPP loans. In addition to the hugely successful SBA program, they also launched a webinar series to help people adjust to the crisis by providing valuable economic experts to members with their financial security and help ensure future success.
ABOUT NUVISION CREDIT UNION: For 85 years, Nuvision has been helping its hard-working members build better lives. Nuvision Credit Union operates Branches throughout Southern California, Alaska, Arizona, Washington, and Wyoming. The Credit Union has more than 184,000 members and more than $2.3 billion in assets. For more information, visit https://nuvisionfederal.com/