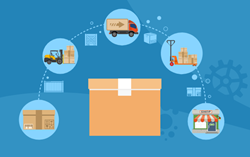 ..the scale we've been able to achieve by reaching 25 million transactions in 2018 on the platform is not only a testament to flexibility of the platform but it also opens up huge opportunities for our customers to operate more efficiently and find new business opportunities..
ATLANTA (PRWEB) November 05, 2018
nuVizz, a leading network based Last Mile Delivery & Transportation SaaS platform with nuDeliverIt and WellRyde products, today celebrated reaching a major milestone of 25 million annual transactions on its multi-tenant SaaS platform.
The nuVizz Transportation SaaS platform caters to all stakeholders in the final mile logistics and people movement ecosystem – shippers, retailers, 3PLs, trip sources, brokers, carriers, drivers and the end customers, all on a single platform. It's a true network-based platform that operates on an event-based architecture connecting all stakeholders without creating point-to-point integrations, giving all stakeholders with the same version of the truth with its context sensitive visibility. The platform operates without the requirement for traditional EDI or API connections between stakeholders. The SaaS platform today helps customers in all kinds of delivery businesses from furniture, appliances, pharmacy, auto parts, office supplies, plumbing and HVAC products to people transportation in non-emergency healthcare, para transit and home healthcare services.
"We look at transportation & delivery as a connected universe and proud to be the only platform that can manage delivery logistics and people transportation on a single platform creating a true logistics and transportation cloud. Connecting the totally fragmented delivery and transportation ecosystem in logistics and people movement verticals on a single instance of the platform is unique and opens up huge possibility of creating a single capacity view of the broader network..", says Guru Rao, CEO of nuVizz, Inc. "…the scale we've been able to achieve with reaching 25 million transactions in 2018 on the platform is not only a testament to flexibility of the platform but it also opens up huge opportunities for our customers to leverage our platform to operate more efficiently. We will continue to build on this momentum to provide both execution and visibility capabilities across the entire ecosystem and also open up the platform for our customers for finding new business opportunities."
Some of the key differentiating features of nuDeliverIt & WellRyde platform include:

A true network-based solution that brings all stakeholders of the delivery & transportation ecosystem on a single platform with many-to-many partnerships
On-demand dynamic optimization combined with traditional scheduled delivery and trip planning
Automated delivery appointment scheduling
Most flexible delivery execution application to cater to any service/delivery & transportation workflow
Best-in-class and consistent customer experience – SMS, email, Uber like visibility, smart speakers and chat bots
Ability for enterprises to build their own crowd delivery ecosystem and manage within the same platform with other traditional resources
Advanced billing capabilities to automate the process
Enterprise grade solution with unmatched 24/7 live customer support
nuVizz, Inc. (http://www.nuvizz.com) is a leading network based final mile delivery and transportation solution provider. nuVizz solution for logistics, nuDeliverIt offers an end-to-end solution including both static and dynamic on-demand route optimization, automated customer appointment scheduling, real-time network visibility, delivery execution and superior customer experience. It brings all stakeholders in the delivery ecosystem with context sensitive visibility and ability to optimize across multiple sources including crowd resources. The nuVizz Transportation SaaS Platform hosts more than 2000 companies, 25000+ active users on its SaaS platform. WellRyde, the same platform for people transportation help customers manage the people transportation ecosystem in a distributed network model. For more information on our solutions, please visit http://www.nuvizz.com.
Contact: Guru Rao
CEO, nuVizz, Inc.
gururaj(at)nuvizz.com or sales(at)nudeliverit.com or sales(at)wellryde.com
http://www.nuvizz.com, http://www.nudeliverit.com, http://www.wellryde.com