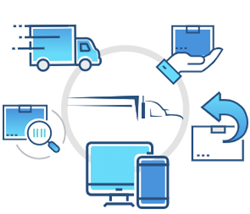 "....with our robust technology platform and capability to model the entire delivery network, we are marching towards becoming industry's first true end-to-end final mile delivery management solution….".
ATLANTA (PRWEB) July 30, 2019
nuDeliverIt by nuVizz, Inc. is an industry leading true network enabled final mile delivery and transportation management SaaS platform. Since its inception in 2011, the nuDeliverIt platform has served hundreds of shippers, 3PLs, Carriers, Agents and Independent Contractors in the logistics and healthcare transportation verticals. The experience of working with thousands of transportation providers has enabled nuVizz to create a catered solution for Final Mile transportation business. The new enhanced modules allow retailers/carriers to automate the delivery appointment scheduling across the entire delivery network. The solution allows customers to consolidate capacity across the delivery ecosystem and provide real-time delivery scheduling capabilities at point-of-sale or post sale. It also enables customer self-serve capability. The advanced billing and settlement module lets customers create multiple contracts for invoicing and settlement using a number of parameters and automates the billing and settlement calculation.
" ..having worked with hundreds of shippers and carriers in Omni-Channel delivery, we have seen that keeping delivery service experience consistent across all channels is a significant challenge. Our new enhanced delivery scheduling module solves this problem and provides end customers with self-serve scheduling capabilities..", adds Pratik Jagad, Chief Product Officer at nuVizz, "…Invoicing and settlement in the shipping world has been a disjointed process involving complex rules. This makes the process very time consuming and prone to errors. A flexible and configurable module was required to address this for a network-based ecosystem. Our new billing and settlement module solves these challenges. nuVizz platform enables one of the largest final mile delivery and transportation ecosystems. Most of the technology vendors in this space expand their capabilities by integrating with 3rd party solutions. This reduces flexibility and provides sub-optimal customer experience. With our robust technology platform and capability to model the entire delivery network, we are marching towards becoming industry's first true end-to-end final mile delivery management solution….".
Some of the key differentiating features of nuDeliverIt platform includes:

A true network-based solution that brings all stakeholders of the delivery ecosystem on a single platform
On-demand dynamic optimization combined with traditional scheduled delivery planning
Automated delivery appointment scheduling enabling multi-channel delivery scheduling and customer self-serve capabilities
Most flexible delivery execution application to cater to any service/delivery workflow
Best-in-class and consistent customer experience – SMS, email, Uber like visibility, smart speakers and chat bots
Ability for enterprises to build their own crowd delivery ecosystem and manage within the same platform with other traditional resources
Flexible driver settlement and customer billing module to automate the back-end processes supporting multi-tier ecosystem
Enterprise grade solution with unmatched 24/7 live customer support
Recognized by Gartner (TM) Market Guide for Real-time Transportation Visibility providers
About nuVizz, Inc.
nuVizz, Inc. (http://www.nuvizz.com) is a leading network-based final mile delivery management and customer experience solution provider. nuVizz solution for logistics, nuDeliverIt offers an end-to-end solution including both static and dynamic on-demand route optimization, automated customer appointment scheduling, real-time network visibility, delivery execution and superior customer experience. It brings all stakeholders in the delivery ecosystem with context sensitive visibility and ability to optimize across multiple sources including crowd resources. The nuDeliverIt Final Mile Platform hosts more than 1500 companies, 30000+ active drivers and caters to more than a million transactions a day on its SaaS platform. For more information, please visit http://www.nudeliverit.com.
Contact: Guru Rao
CEO
gururaj(at)nuvizz.com or sales(at)nudeliverit.com