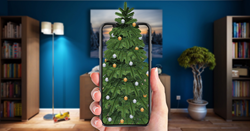 Nvzn helps shoppers try before they buy making them more likely to convert and less likely to return
CHICAGO (PRWEB) December 14, 2020
Picking out the perfect Christmas tree is no easy task. Will it fit in your space? How tall is too tall? This holiday season, people shopping for a tree can use Nvzn's web-based utility to place an augmented reality ("AR") version of the tree right in their living room. Thousands of people are already using the "View in Your Space" Christmas tree feature and loving it—here's how it works:
Visit Pick the Perfect Christmas Tree Size from your iPhone, iPad or Android browser — there are no apps to install. Select the size you want to try, tap "View in Your Space". The stunningly realistic 3D Christmas tree will magically appear wherever you point the camera. You can walk around it as if the tree is really in the room. Try it in different locations in your home or exit back to the site to try a different size.
At a time when more and more people are ordering their artificial trees online according to Jami Warner, Executive Director of American Christmas Tree Association, this is a great way for them to pick out the right tree for their space. No one wants to go through the trouble of setting up their tree only to find that it's less than perfect. Taking it down, re-packaging it and shipping it back to the seller is a painful eventuality for shoppers and a growingly expensive drag on profitability for sellers.
Nvzn created the Virtual Christmas Tree Experience to highlight its powerful web-based AR technology now being used by a growing roster of online sellers to reduce the friction of online shopping for consumers and improve conversion. It works great for previewing items like décor, furniture, rugs and much more. To learn more about incorporating it into your eCommerce site visit http://www.nvzn.net/contact.
About Nvzn (Envision)
Nvzn Augmented Reality Corp. is a leading provider of web-based augmented reality product previews for eCommerce. Its innovative solutions are proven to help sellers increase conversion, engagement and revenue per visit while decreasing costly returns. The Nvzn cloud platform allows web-based experiences to be easily integrated into any existing eCommerce site without requiring the installation of apps. Seeing is believing and nothing is more convincing than experiencing a real-scale 3D view of a product exactly where your shopper intends to use it. Envision the future of eCommerce — Nvzn Augmented Reality.
For more info please visit http://www.nvzn.net