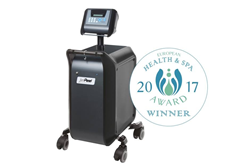 While other devices target the epidermis layer of the skin, JETPEEL™-3V uniquely infuses the skin with solutions down to the dermis.
NEW YORK (PRWEB) November 06, 2018
NY Laser Outlet, a leading provider of sales, service and training in the new and pre-owned cosmetic, aesthetic and medical laser market, announced today that it is now authorized to distribute both the medical and aesthetic versions of TavTech's state-of-the-art aesthetic treatment device JETPEEL™-3V.
Built on TavTech's pioneering and proprietary Jet Technology, JETPEEL™-3V is an advanced aesthetic treatment device that is suitable for all skin types, and allows practitioners to administer all year around a full range of non-invasive and relaxing skin care procedures that achieve outstanding results, such as lymphatic drainage, exfoliation, needle-free sub-dermal therapy and more.
The JETPEEL™-3V is the only technology that infuses through the dermis to oxygenate skin tissue and stimulate collagen production. The unique jet stream painlessly opens micro tunnels in the epidermis, allowing moisture and serums to penetrate without breaking or touching the skin, and without using needles.
Furthermore, as there is no skin penetration it is not necessary for practitioners to be doctors or hold licenses in most states. This makes JETPEEL™-3V ideal for spas, wellness centers, and other businesses that do not have a doctor on staff or on their board, but want to add more innovative and client-focused treatments to their offerings.
Commented NY Laser Outlet's founder Ari Marom: "JETPEEL™-3V offers leading edge technology that is currently unavailable in the market. While other devices target the epidermis layer of the skin, JETPEEL™-3V uniquely infuses the skin with solutions down to the dermis. This creates outstanding results, and represents a profitable investment for practitioners. For example, one of our clients achieved ROI in less than 60 days."
In addition to the new distribution partnership, NY Laser Outlet is planning to add a needle-free sterile hand piece that allows platelet-rich plasma (PRP) treatments within the next 30 days. Added Marom: "Pain-free & needle-free PRP, which uses growth factors to stimulate the stem cells that produce collagen and regenerate skin, will revolutionize the market and give our clients a massive competitive advantage to serve the growing number of people who are interested in advanced regenerative healing."
For more information on NY Laser Outlet, including details on the company's 100% financing offer and flight cost reimbursement, call toll-free (800) 887-1966, fill out the web contact form for a prompt response, or visit the company's large showroom at 15 West 28th Street, 10th Floor (off 5th Avenue) in New York City during normal business hours (Monday-Friday from 9am-8:00pm EST).