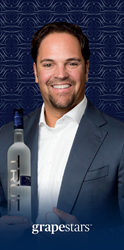 MIAMI (PRWEB) September 02, 2020
GrapeStars is launching TRUE Vodka alongside baseball Hall of Famer, Mike Piazza. The one-stop shop for celebrity wine and spirits will be the exclusive retailer for TRUE Vodka, which to date has only been available on premise at New York hotspots including 1 Oak, Vetro NYC, Il Mulino and Tre Sorelle. Consumers nationwide will have first-time access to enjoying TRUE Vodka at home and having it delivered to their doorsteps.
GrapeStars and Piazza will together be launching a campaign featuring TRUE Vodka on the GrapeStars app and marketplace. Piazza has shared the exciting news with his fans on his Facebook and Instagram that TRUE Vodka is now available for delivery straight to their doors. "GrapeStars is truly bridging the gap between celebrities and fans," he shared. "When I became involved with TRUE Vodka, my main goal was to provide a great-tasting, premium vodka for my fans and the world to enjoy. Through our campaign with GrapeStars we'll be doing just that."
TRUE Vodka is made from mixed rye and wheat grains from Italy and uses specially purified water from the springs of Tuscany, making it incredibly smooth. The high-quality vodka is produced by a seven times distillation process by legendary supplier of spirits, Caffo, in the Distelleria Friulia. TRUE Vodka has been awarded the prestigious gold medal for best bottle design at the FESPA awards in 2017 and has been picked 9 out of 10 times in blind taste tests against other leading premium vodka brands.
"Mike Piazza hit many majestic home runs in a Mets uniform as part of his Hall of Fame career, and Mike is hitting another home run with True Vodka," stated Mets Executive Vice President & Chief Revenue Officer Lou DePaoli.
"I have been a long-time Mike Piazza fan and cannot overstate how thrilled we are to team up with him. Bringing TRUE Vodka into his fans' homes is a huge milestone for GrapeStars and we're extremely proud to be part of the TRUE Vodka journey," shared GrapeStars Co-Founder and CEO, Jean-Jean Pelletier.
Mike Piazza is one of the first guests on GrapeStars' newly launched podcast, The GrapeStars Podcast, where celebrities will discuss and devour all things wine & spirits with host, Lilia Fifield. To listen to the episode with baseball legend, Mike Piazza, or an interview with the podcast's first guest, Kevin Harrington, GrapeStars Chairman and original "shark" from Shark Tank, visit the GrapeStars YouTube Channel.
GrapeStars is available for every iOS or Android device. Once installed, users make a profile and can browse their favorite celebrity brands to be delivered straight to their door. To learn more about GrapeStars visit: https://grapestars.com/.
About Mike Piazza
Mike Piazza's 16-year Major League Baseball career is filled with highlights. Voted 1993 Rookie of the Year, Mike went on to appear in 12 All-Star Games, earn 10 Silver Slugger Awards and set the MLB record for most home runs by any catcher with 427 total. His trade to the New York Mets transformed the franchise and it was as a Met, that Piazza was inducted into the Baseball Hall of Fame in 2016. The New York Mets retired Piazza's #31 in a ceremony at Citi Field in 2016. A proud Italian-American, Piazza has been honored by the National Italian-American Foundation, served as a spokesman for the Italian-American Sports Hall of Fame and is the Manager for the Italian National Baseball team that will compete in the upcoming World Baseball Games. Piazza and his family live most of the year in Italy, where he found True Vodka, a bespoke Italian-made vodka at a distillery in Friuli, and made it his passion project.
About GrapeStars
GrapeStars is a game-changing online specialty wine and premium & craft spirits marketplace which allows celebrities and celebrity endorsed brands to promote their wines and spirits directly to their followers on social media. For the first time ever, celebrities and brands now have a virtual direct-to-consumer sales channel. Through GrapeStars, those brands can now make their products available nationwide without the need to engage themselves with retailers. The one-of-a-kind app is designed to engage users through advanced technology. The user experience is highly interactive and entertaining; fans can discover previously unknown products from celebrities, interact socially with their favorite celebrities, ask our virtual sommelier for recommendations or pairing suggestions, and explore different wine regions around the world via videos and live mapping. The company was founded by serial entrepreneurs and wine aficionados Jean-Jean Pelletier (President and CEO), his brother Robert Pelletier, and their childhood friends Stephan Fortier, Stefan Lindqvist and Charles-André Sauvé.