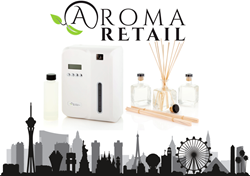 Have you been to a resort where you loved the smell and wished you could make your place smell like that?
LAS VEGAS (PRWEB) October 05, 2018
Aroma Retail, a Las Vegas-based company, has burst on the scene offering a variety of scenting products as an exclusive distributor of fragrances from 5-star hotels and resorts. According to a recent NY Times Article When a Scented Candle Just Won't Do "Drugstores and other retailers are fully stocked with low-cost home fragrances, from room sprays to candles and wall plug-ins. Now there are options on the higher end: compact yet high-powered diffusers that will infuse scent throughout a room for hours or days at a time." That is exactly what Aroma Retail provides.
Aroma Retail's tagline "Have you been to a resort where you loved the smell and wished you could make your place smell like that?" sums up their business model. World-class resorts have gone through the laborious process of developing the best scent for the lifestyle that they embody, and the mood that they want to share with their guests. They spent hours of research and development on these fragrances in order to provide a unique and memorable experience.
Cristina Reding, Owner of Aroma Retail said. "Teams of hospitality experts and marketing professionals have developed these wonderful unique scents; and, thanks to them, we have a wonderful library of unique, great-smelling, mood-enhancing fragrances."
To solve the most common issue in the online fragrance industry "how to know which scent would be best?" Aroma Retail recently launched the industry's first intuitive Fragrance Test. Five simple questions that will help clients discover their signature scent. Then it delivers a personalized results page with the ideal scent, along with four alternatives. If the client is still unsure, they can get sample blotters in the mail to do a sniff test.
Cristina said, "I had a lot of customers that understand the value of using these very special fragrances developed by renowned resorts, and they still needed help selecting the best one based on their own personal preferences. This is why we developed the Fragrance Test."
The home fragrance market is a $6.4 billion business at the retail level, according to a 2016 study by Kline, a market research and consulting firm in Parsippany, N.J. Using data from a Simmons national consumer survey, the online research company Statista calculated that 73 percent of Americans used room deodorizers and air freshener sprays last year; the figure is poised to hit 77 percent by 2020. Aroma Retail is poised to fulfill this growing niche with a wide variety of fragrances used by resorts like The Four Seasons, Loews Hotels, The Aria and Park Hyatt just to name a few.
About Aroma Retail
Launched in January 2017, Aroma retail offers the top 40 fragrances used by world-class resorts to scent their lobbies, casinos, and other common areas. Aroma Retail also offers seasonal fragrances that are used by resorts during the holiday seasons and other special occasions.