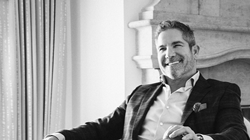 "It's more important than ever to support those in your local communities." —Grant Cardone
MIAMI (PRWEB) April 30, 2020
Entrepreneur and social media influencer Grant Cardone made a donation this week through his Grant Cardone Foundation to help create a special ceremony for local graduating South Florida seniors on May 14th amid the current COVID-19 shutdown, which is hindering traditional graduation ceremonies across the world this spring.
The monetary gift helps make possible each participating graduating senior to be paraded around Country Club Drive with one graduate per vehicle. The planning committee awaits final approval to have the parade culminate in a local park where all 200 grads will socially distance and enjoy a special celebrity appearance. While further details are being worked out, each student will receive a special baseball cap with "Class of 2020", a tassel, and a customized, one-of-a-kind face mask to memoralize their very unique graduation.
This idea came from former Aventura Commissioner Michael Stern because his daughter and her friends were missing out on prom and a traditional graduation ceremony that high school students normally experience. Mr. Stern reached out to Aventura City Commissioner Howard Weinberg, because he knew it would require a donation to provide commemorative keepsakes for the students. In turn, Commissioner Weinberg reached out to local business owner, Grant Cardone, as the two have been collaborating on other relief efforts in the Aventura community related to Covid 19.
"I made one call…to Grant Cardone. He answered on the first ring and said yes as soon as I said it was for Aventura's graduating high school students. His only question was 'how much'. He had a check for me the next day. It's amazing to have a community with stakeholders like Grant." —City of Aventura Commissioner Howard Weinberg
Cardone obliged the request and is also donating his booklet on financial education to the graduates as a head start in their careers.
"During this COVID-19 economic crisis, it's more important than ever to support those in your local communities. I've been blessed to be able to help in a small way, and hope it encourages others to give back in any way they can." —Grant Cardone
The Grant Cardone Foundation, a non-profit corporation organized and operated exclusively for charitable purposes, including providing mentoring and financial literacy education to underserved and at-risk populations, has also contributed to the Boy Scouts of America, Make-A-Wish Foundation, and Hurricane Dorian Relief, where resources were brought to the most devastated areas in the Bahamas. In addition, earlier this month the Cardone Foundation contributed to help feed the first responders in Aventura using local Aventura small business restaurants.
To learn more about the Cardone Foundation, visit https://cardonefoundation.com/
About Grant Cardone
CEO of CardoneCapital, international speaker, entrepreneur and author of The 10X Rule & creator of 21 best-selling business programs, Grant Cardone owns & operates seven privately held companies and a $1.4B portfolio of multifamily properties. Named the #1 marketer to watch by Forbes Magazine, Cardone is also the founder of The 10X Movement & The 10X Growth Conference, the world's largest business & entrepreneur conference.