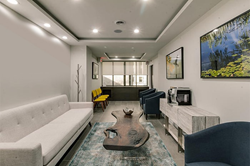 Through our integrative approach, we pride ourselves on spending the time necessary to analyze and treat difficult digestive issues that can often be overlooked in today's fast paced healthcare environment.
New York, NY (PRWEB) August 24, 2017
Dr. Shawn Khodadadian, a board-certified gastroenterologist in Manhattan, is cautioning people against ignoring rectal bleeding.
"Any rectal bleeding needs to be thoroughly investigated" explains Dr. Khodadadian, "as there are many possible causes and getting an early diagnosis is particularly important. This is because although rectal bleeding can be a symptom of hemorrhoids, colitis or anal fissures, it can also be a sign of a far more serious illness for example colorectal or colon cancer. These types of cancers can often be completely cured when detected early."
Rectal bleeding is a common symptom of colon cancer or colorectal cancer. Colon cancer is the second most common cancer in the United States, while colorectal cancer is the third most frequently diagnosed cancer. Colon cancer is a slow-growing disease that begins in the large intestine which means it can often be effectively treated with an early diagnosis. It may be caused by polyps in the colon which can be diagnosed through a colonoscopy. Removing polyps reduces the risk of cancer. Dr. Khodadadian is also keen to highlight how lifestyle factors may impact colorectal cancer rates. Certain studies have pointed to a possible correlation between diet and colorectal cancer Further studies are ongoing to elucidate the impact of a high-fat diet and colorectal cancer risk.
Treatments for rectal bleeding depend on the diagnosis. To make a diagnosis, Dr. Khodadadian will need to carry out an examination and may perform an anoscopy. He may also recommend other tests including a colonoscopy, where a small tube fitted with a camera will provide detailed visual images of potential problem areas with the opportunity to biopsy or remove polyps at the same time. At this stage, it is vital to bear in mind that there are other causes of rectal bleeding that are not due to any form of cancer such as hemorrhoids, fissures and other causes.
Other causes of rectal bleeding such as hemorrhoids can be remedied using state-of-the-art treatments such as infrared coagulation. Dr. Khodadadian explains "The hemorrhoid consists of a large vein, draining many small veins but it would be too painful to directly treat this large vein due to all the nerve endings in this area. Instead, we target the veins just above the hemorrhoid and infrared light helps these veins shrink and recede, preventing blood from reaching the hemorrhoids."
About Dr. Shawn Khodadadian
Dr. Shawn Khodadadian graduated Summa Cum Laude from the Sophie Davies School of Biomedical Education having been accepted for the highly selective, accelerated seven-year B.S./M.D. He received his MD from the State University of New York's Stony Brook School of Medicine, graduating in the top 2% of his class. Dr. Khodadadian went on to receive the prestigious Merck Award and was inducted into the National Medical Honor society for all US medical schools. He completed his internship and residency in internal medicine followed by a three-year fellowship in Gastroenterology, Hepatology and Nutrition at Lenox Hill Hospital. Dr. Khodadadian is one of the very few physicians who is board certified as a physician nutrition specialist as he feels strongly that general wellness and disease prevention, particularly digestive diseases are linked to nutrition.
Contact
Dr. Shawn Khodadadian
Manhattan Gastroenterology
983 Park Ave, Ste 1D
New York, NY 10028
(212) 427-8761
http://www.manhattangastroenterology.com
Source
https://www.sciencedaily.com/releases/2017/07/170706121221.htm
https://www.ncbi.nlm.nih.gov/pmc/articles/PMC4724606/