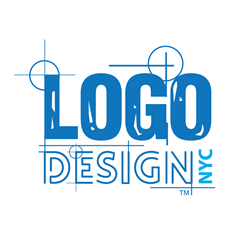 "If a boutique Logo Design Company can win a Davey Award for Web Design in the middle of a global pandemic - there's nothing your company can't do," Joe Jensen, Logo Design NYC Founder
NEW YORK (PRWEB) November 17, 2020
Logo Design NYC, a boutique Logo Design Firm in Manhattan, has won the prestigious Silver Davey Award - from the Academy of Interactive and Visual Arts (AIVA) - in the small business website category. The company received the award for the redesign of their website, LogoDesignNYC.Com.
David defeated the giant Goliath with a big idea and a little rock – the sort of thing small agencies do each year. The annual International Davey Awards honors the achievements of the "Creative Davids" who derive their strength from big ideas, rather than stratospheric budgets.
In 2020, we're all Davids, doing what we can to stay afloat despite the devastation the COVID-19 Pandemic has had on both lives and livelihoods.
Working tirelessly on clients' websites and logo designs left little time for Joe Jensen, Logo Design NYC 's founder and managing director, to focus on his company's visual brand identity. But when the global Coronavirus Pandemic hit, business slowed down as small businesses everywhere slashed their budgets to stay afloat.
While the economic - and emotional - impact was (and still is) devastating for everyone, Joe positioned himself and the company to better serve his clients by focusing on growth. With a few new team leaders on board –  the timing was right to refresh the Logo Design NYC brand.
The team took a step back to reflect, rebrand, and revise their strategy. In fact, they finished their website facelift on the same day they submitted it to the Davey Awards competition.
The rebrand paid off. Not only did LogoDesignNYC.Com win the Davey Award, they also experienced a surge in business.
Now more than ever, small businesses need to invest in and expand their online presence through branding. As the disaster known as the year 2020 comes to a close, it's the perfect time to reevaluate your brand strategy for 2021. If you need inspiration, you can read more about Logo Design NYC's journey to success here.
Whether or not you decide to go it alone - or seek out professional design and marketing services - just know that if a Logo Design Company can win a Davey Award for web design - there's nothing your company can't do.
Logo Design NYC wants to celebrate their Davey Award win by giving back to the community, and inspiring others to become Davids. The company is encouraging other small and medium sized businesses to share their own branding and rebranding success stories or tips on Twitter & Instagram. In January, they will choose one small business from the participants who shared stories, and reward them with a free 30 minute brand strategy brainstorm call.
About LogoDesignNYC.Com:
Logo Design NYC is an award winning, local New York City boutique design agency helping small to large businesses achieve their vision through great design and branding. Since 2007, Logo Design NYC has created logos in every style, for every industry, and all across the globe. The team is composed of local designers and marketing experts with a passion for good design, an understanding of design standards and the courage to go outside of the box, resulting in truly amazing and unique logos and visual brand identities.
Logo Design NYC's mission is to help businesses establish a professional, memorable, and unique visual identity across all platforms. The Logo Design and branding agency takes pride in offering real customer service by real designers and helping businesses through meaningful partnerships.
About the Davey Awards:
David defeated the giant Goliath with a big idea and a little rock – the sort of thing small agencies do each year. The annual International Davey Awards honors the achievements of the "Creative Davids" who derive their strength from big ideas, rather than stratospheric budgets. The Davey is sanctioned and judged by the Academy of Interactive and Visual Arts, an invitation-only body consisting of top-tier professionals from a "Who's Who" of acclaimed media, advertising, and marketing firms. AIVA members include executives from organizations such as Condé Nast, Disney, GE, Keller Crescent, Microsoft, Monster.com, MTV, Push., Publicis, Sesame Workshops, The Marketing Store, Worktank and Yahoo! and many more. For more information, visit: https://www.daveyawards.com/