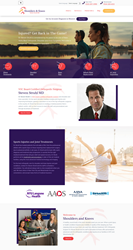 I used my innovative "closed-loop, double endobutton repair" ACJ surgical technique to obtain excellent results and fix Brandon Medina's injury. My goal was to provide him with the best orthopedic care to get him back fighting in the ring quickly, says Dr. Steven Struhl
NEW YORK (PRWEB) September 01, 2020
As one of the top experts in the country in complex shoulder surgery, Dr. Steven Struhl has performed a countless number of procedures on various types of professional athletes, allowing them to return to their competitive sports after treatment. His most recent patient, Brazilian jiu-jitsu, MMA fighter and trainer, Brandon "B-52" Medina, recently suffered from a painful acromioclavicular joint dislocation. Dr. Struhl, well-known for his breakthroughs in the treatment of complex shoulder conditions, was able to use his revolutionary, patented "closed-loop, double endobutton repair" technique during Brandon Medina's ACJ surgery to successfully correct the dislocation. Dr. Struhl's "closed-loop double, endobutton repair" or "continuous loop" procedure for acromioclavicular joint separation has shown superior results when compared to suture-button and traditional techniques, as it has a strong and durable fixation, allows for normal physiologic movement and is surgeon friendly, minimizing complication risk and plan for long-term biologic stability. By using his novel procedure and superior surgical skill, Dr. Struhl was able to get this MMA fighter back to 100% in a timely manner.
"I used my innovative "closed-loop, double endobutton repair" ACJ surgical technique to obtain excellent results and fix Brandon Medina's injury. My goal was to provide him with the best orthopedic care to get him back fighting in the ring quickly," says Dr. Steven Struhl
More about Dr. Steven Struhl:
Dr. Struhl is board certified in both orthopedic surgery and sports medicine/arthroscopic surgery and has been in private practice for over 22 years. He graduated from MIT and earned his medical degree from the University of California - San Francisco. Dr. Struhl completed his residency in orthopedic surgery at Montefiore Medical Center in New York and a fellowship in sports medicine at Penn State University. He is a fellow of the American Academy of Orthopedic Surgeons and a member of the Arthroscopy Association of North America. Dr. Struhl is currently on faculty at NYU Medical School and on the teaching staff at the Hospital for Joint Diseases. He has patented procedures and authored numerous peer-review articles. His important research has been presented both nationally and internationally. Dr. Struhl has served as a medical consultant for the US Open tennis tournament and medical director for Sportscare Physical Therapy, official physical therapists for the Brooklyn Nets.
For a consultation or to learn more about Dr. Struhl and his Shoulders & Knees orthopedic practice, call (212) 207-1990 for the Manhattan clinic or (914) 328-4111 for the White Plains, NY, location. You can also visit http://www.shouldersandknees.com for more information.