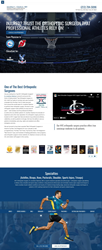 "The BEAR® Implant will enable me to expand indications for ACL treatment, and clinical studies have shown some patients experienced faster recovery of muscle strength and higher satisfaction than with traditional ACL reconstruction," said Dr. Jonathan L. Glashow
NEW YORK (PRWEB) November 30, 2021
ACL reconstruction is one of the most common orthopedic procedures in the country. Dr. Jonathan Glashow, a renowned ACL expert, is a top-rated, board-certified surgeon, who is trusted by professional and amateur athletes in treating orthopedic shoulder and knee injuries. Dr. Glashow successfully pioneered the first surgery using BEAR® Implant technology commercially in early October of this year. Unlike reconstruction, which is the current standard of care, Dr. Glashow was able to utilize the BEAR® Implant, which does not require a second surgical wound site to remove a healthy tendon from another part of the leg or using a donor's tendon.
Miach Orthopaedics' new Bridge-Enhanced® ACL Repair (BEAR®) Implant is a proprietary bio-engineered implant used to facilitate healing of the torn ACL. The BEAR® Implant was developed by Martha Murray, M.D., founder of Miach Orthopaedics. The implant acts as a bridge between the two ends of the torn ACL. The surgeon injects a small amount of the patient's own blood into the implant, inserting it between the torn ends of the ACL in a minimally invasive procedure. The combination of the BEAR® Implant and the patient's blood enables the body to heal the torn ends of the ACL back together and maintain its original attachments to the femur and tibia. As the ACL heals, the implant is absorbed by the body, within approximately eight weeks. This groundbreaking technology offers patients the advantages of restoring their ACL instead of reconstructing it.
"The BEAR® Implant will enable me to expand indications for ACL treatment, and clinical studies have shown some patients experienced faster recovery of muscle strength and higher satisfaction with regard to readiness to return to sport than with traditional ACL reconstruction," said Dr. Jonathan L. Glashow
For more about Dr. Jonathan Glashow:
Dr. Jonathan Glashow is a board-certified orthopedic surgeon at NYU Langone Medical Center in New York City and is co-chief of sports medicine orthopedics at New York's Mount Sinai Medical Center and has been in private practice for over 29 years. He is also the team physician for the NJ Devils and Philadelphia 76ers professional sports teams. To find out more information about Dr. Jonathan Glashow or to schedule an appointment at his orthopedic practice located in NYC at 737 Park Avenue, Suite #1A, please call (212)794-5096 or visit http://www.orthopedicsurgeonnyc.com.
For more information about BEAR® Implant technology: http://www.miachortho.com