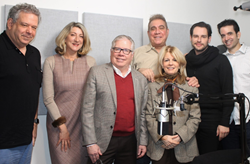 NEW YORK (PRWEB) February 06, 2020
New York City's residential real estate professionals face myriad challenges, navigating an ever-changing landscape with industry disruptors as disparate data plagues the industry and costs precious time and money.
"Most cities and regions in the U.S are serviced by a local multiple listing service, so why has it been so difficult to establish a single, comprehensive shared database for New York City?" asked Vince Rocco, host of "Good Morning New York," an online radio show focusing on real estate trends in NYC.
"It comes down to one word – change," said Richard Haggerty, CEO of the Hudson Gateway Association of Realtors, Inc. (HGAR), and president of OneKey™ MLS, the New York metro area's first regional MLS. "It is extremely difficult for active agents to do their job servicing consumers in a very hectic market. When you factor in change, learning new ways of entering listings, new ways of doing business, that can be intimidating."
Haggerty was a featured guest on Rocco's live show February 4 alongside a panel of industry experts to discuss the need for a unified MLS. Prior to OneKey™ MLS, Haggerty noted, other entities had stepped into the void – the real estate platform StreetEasy being the most notable – and "taken advantage of the lack of an MLS and became the de facto MLS in New York City."
While certain platforms are attractive because of their ease of use, the problem is often the quality of the listings data, Haggerty said. "That's why we're making this push ... for a unified MLS in New York City," Haggerty said, noting OneKey™ MLS' goal to be the most trusted source with listings from Manhattan to Long Island and through the Hudson Valley into the Catskills.
Joining Haggerty on the panel were OneKey™ MLS chairperson Leah Caro, president and principal broker of Park Sterling Realty in Bronxville, N.Y.; NYC real estate photographer Michael Weinstein; Elise Ehrlich, Halstead; Jordan Shea, Douglas Elliman; and Phil Horigan, Frele and Leasebreak.com.
The panel cited "politics" and a "fear of losing control" as reasons why some larger firms have embraced a unified MLS in other markets but have resisted one for New York City.
"They're losing that edge already, because they're a slave to StreetEasy," said Caro. "You are giving up your data and buying it back, which makes no economic sense, long-term. I think the folks who are scared are angry at the more progressive, technologically based real estate companies who have bought into the new (OneKey™) MLS. There are these holdouts who are not ready for that. It's narrow vision."
Caro shared HGAR's efforts over the past several years to partner with the Long Island Board of Realtors to create OneKey™ MLS, which has already attracted a number of prestigious members, including Compass. "We're bringing the solution on a platter, yet there is some pushback," said Caro. "I think there are some protection issues, not just fear. OneKey™ MLS brings uniformity of the data to the market. This is the method to the madness."
Horigan questioned whether firms would want to pay for another service: "I don't know how we get to a solution if it's not a free solution."
Haggerty added "there's no such thing as free ... there's technology behind it" and he cited HGAR's investments into data collection to ensure the highest quality information. "What we're trying to propose is that the MLS concept works in every single part of the country and it's easy to use. So why wouldn't it work in New York City? We think it will."
About OneKey™ MLS
OneKey™ MLS is 42,000 plus subscribers strong and serves Manhattan, Westchester, Putnam, Rockland, Sullivan, Orange, Nassau, Suffolk, Queens, Brooklyn, and the Bronx. It was formed in 2018, following the merger of the Hudson Gateway Multiple Listing Service and the Multiple Listing Service of Long Island.
About The Hudson Gateway Association of REALTORS®
The Hudson Gateway Association of REALTORS® is a not-for-profit trade association representing more than 13,000 real estate professionals in Manhattan, the Bronx, Westchester, Putnam, Rockland and Orange counties. It is the second-largest Realtor® Association in New York, and one of the largest in the U.S.