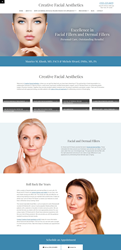 SculpSure™ can be a more convenient option for patients looking to get rid of diet and exercise-resistant fat in a way that fits into their busy lifestyle, returning to their normal routine immediately. says Dr. Maurice Khosh
NEW YORK (PRWEB) April 07, 2021
By adding the innovative SculpSure™ treatment to nonsurgical rejuvenation options, Creative Facial Aesthetics in NYC can now help patients reduce stubborn areas of fat without surgery to achieve body contouring goals. Creative Facial Aesthetics is a collaboration between Dr. Maurice Khosh, a renowned, dual board-certified facial plastic surgeon and Michele Rivard, an outstanding plastic surgery physician assistant. Together, they provide excellent patient-centered care, focusing on aesthetics and plastic surgery, using innovative medical and anti-aging technology.
SculpSure™ is designed to permanently eliminate unwanted fat cells in certain areas of the body using light-based thermal energy. The procedure's use of thermal energy, allows SculpSure™ to permanently eliminate excess fat by destroying targeted fat cells. This FDA-approved treatment can target excess fat on the hips and abdomen without endangering the healthy surrounding tissues. A SculpSure™ treatment can typically be completed within 25 minutes. After the procedure is complete, the body's natural metabolic processes will gradually remove these damaged fat cells from the body. Patients typically begin to notice results within six weeks of the procedure.
"SculpSure™ can be a more convenient option for patients looking to get rid of diet and exercise-resistant fat in a way that fits into their busy lifestyle, returning to their normal routine immediately," says Dr. Maurice Khosh
More about Creative Facial Aesthetics:
Creative Facial Aesthetics is located at 245 5thAvenue, Suite 334 in New York City. The aesthetic experts at this practice can help you achieve the look you desire. Offering a wide variety of products, procedures and treatments, they can provide you with the most appropriate care to address your concerns with aging skin. To learn more about SculpsureTM treatment, other services or to schedule a consultation, please visit http://www.creativefacialaesthetics.com or call 332-223-6655.