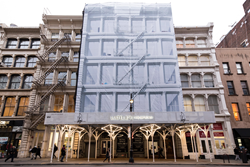 At KPG Funds, we put design and safety at the forefront of everything we do
NEW YORK (PRWEB) February 14, 2020
Real estate investment firm KPG Funds today unveiled a new, design-forward technique for protecting pedestrians on urban sidewalks during periods of building construction. At L'Atelier at 446 Broadway, the company's five-story boutique office and retail building in Manhattan's SoHo neighborhood, KPG has partnered with Urban Umbrella to design and deploy New York City's first silkscreen building depiction featuring an architecturally accurate rendering printed within its mesh netting.
Featuring a full-sized depiction of L'Atelier at 446 Broadway's historic cast-iron façade, the innovative scaffolding system is designed to seamlessly blend with its surroundings while creating a safe and welcoming pedestrian corridor that is far more aesthetically pleasing than the traditional sidewalk shed.
"At KPG Funds, we put design and safety at the forefront of everything we do, so we are delighted to pilot Urban Umbrella's new product at L'Atelier at 446 Broadway," said Greg Kraut, Co-Founder and CEO at KGP Funds. "L'Atelier is a special building and we wanted to do something that would also look nice for the community during our construction. We are happily paying a tiny bit more to give our neighbors a better visual experience and to push the design envelope with this stunning combination of textile craftsmanship and construction safety."
KPG is implementing a complete rehabilitation and repositioning campaign at L'Atelier at 446 Broadway, which will feature pre-built, move-in-ready interiors designed by 11FIFTYNINE, and various new amenities, including high-speed elevators, a 2,000-square-foot landscaped roof, oversized bay windows, and 14- to 18-foot ceiling heights.
The Urban Umbrella sidewalk shed represents the first major overhaul of the temporary structures built to protect pedestrians during construction in over 60 years. In addition to its beautification benefits, Urban Umbrella's sidewalk sheds improve public safety and storefront visibility through the elimination of cross-bracing that visually obstructs ground-floor storefronts and building entrances. The Urban Umbrella scaffolding is comprised of recycled steel, translucent plastic panels and LED lighting, combining the strength of a highway bridge and the beauty of a work of art.
"We've seen widespread adoption of our revolutionary sidewalk shed alternative since entering the New York City market a few years ago, and we believe this new silkscreen product will further expedite our growth in the city," said Benjamin Krall, founder and chief executive officer at Urban Umbrella. "There are thousands of buildings in New York, many of them architecturally significant, that need to undergo restoration. These wraps will allow New Yorkers and visitors alike to enjoy their beauty while this important work occurs. Like our signature sidewalk shed product, this netting is designed to blend in, so people don't actually know work is happening."
There are approximately 6,000 sheds installed throughout New York City. The structures are required during construction of new buildings 40 feet or higher and the demolition of buildings 25 feet or higher.
"SoHo is known for its incredible cast-iron building facades," said Mark Dicus, Executive Director of the SoHo Broadway Initiative. "The Urban Umbrella opens up the sidewalk to improve the pedestrian experience, while the new mesh netting illustrates the restored façade and is a vast improvement over conventional scaffolding nettings. We hope it becomes the industry standard."
About KPG Funds
KPG Funds ("KPG") is a fully integrated real estate private equity platform with asset management, project management, development, design, leasing and property management. With over 35 years combined experience based in NYC, KPG manages fully discretionary institutional vehicles targeting middle market value-add office investments. KPG's management team has relied on an investment philosophy and organizational structure that results in its investors uncovering special situations and getting to opportunities ahead of the market, while receiving an unmatched level of service, transparency, and accountability. KPG is a privately-held and management-owned SEC registered investment adviser that maintains an unwavering commitment to put its investors needs first. Additional information about KPG and a selection of current holdings and previous transactions are available at https://kpgfunds.com/ or by calling Gregory Kraut at 212-359-0743.
About Urban Umbrella
Urban Umbrella is the designer, patent holder, and fabricator of the only alternative scaffolding bridge on the market that is approved by The New York Department of Building. The unique product is the first design substitute for traditional scaffolding in over 50 years. In an International design competition with over 260 contestants, Mayor Michael Bloomberg and The DOB's Commissioner (Robert LiMandri) proclaimed Urban Umbrella the new exemplar of scaffolding for NYC. The Urban Umbrella design was chosen to help improve quality of life, reduce construction impacts on businesses, increase pedestrian safety, and increase available space for pedestrians on sidewalks. Additional information about Urban Umbrella available at https://www.urbanumbrella.com/