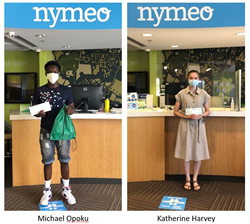 "We received the most applications this year since we began the scholarship program six years ago, and each application was impressive and competitive." - Vicki Johnston, President and CEO, Nymeo
FREDERICK, Md. (PRWEB) August 14, 2020
Nymeo Federal Credit Union, a community-based credit union serving Frederick and Montgomery Counties, provided a total of 20 college-based scholarships to area High School Seniors. The scholarships were awarded through the credit union's annual scholarship program, Nymeo Believe & Achieve College Scholarship, and Frederick County Public School's (FCPS) Start-Up Frederick Competition.
Michael Opoku, a graduating senior from Governor Thomas Johnson High School and Katherine Harvey, a homeschooled high school senior from Frederick were the recipients of this year's Nymeo Believe and Achieve College Scholarship. A committee of judges based the winners on their essays, academic accomplishments and participation in school and community activities. The students each received a $2,500 scholarship.
"We received the most applications this year since we began the scholarship program six years ago, and each application was impressive and competitive," said Vicki Johnston, President and CEO of Nymeo. "The judges had a difficult time in selecting the best two candidates."
Aside from credit union's scholarship program, Nymeo also participated as a sponsor and judge of FCPS' Start-Up Frederick program, a competition like the TV show Shark Tank, showcasing unique inventions and business plans created by Frederick High School students. This year, the competition was held virtually. The awards ranged from $50 to $300.
"The entrepreneurship spirit was so impressive at this competition," said Johnston. "We're happy we were a part of this competition that gives students an opportunity to develop ideas and products as well as help further their dreams."
Among the top winners of the Start-Up competition were Middletown High School's Molly Harris, whose business was called Cakes By Molly and also Tuscarora High School team of Allison Fitzgerald, Kyle Sanger and Nora Schobel, that created a company called The Blast Cap and highlighted a swim cap containing waterproof, Bluetooth speakers.
"The Pandemic brought forth many challenges to high school students this year," added Johnston. "As a community credit union, we were happy to be a part of something that encouraged students to persevere and provided them hope for the future. Thank you to those who applied to our scholarship and participated in Start-Up Frederick."
About Nymeo Federal Credit Union:
Nymeo is a cooperative, not-for-profit financial institution with headquarters in Frederick, MD. Nymeo offers traditional banking products, but stands apart from other financial institutions with its outstanding customer service, innovative branch concepts, low interest rate loans and new mobile banking application for its members. Nymeo membership is open to anyone who lives, works, worships, attends school, volunteers, or conducts regular business in Frederick and Montgomery Counties. For more information about Nymeo please visit nymeo.org.