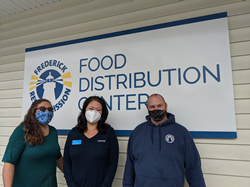 "Nymeo wanted to recognize local heroes who go above and beyond for others in our community." - Vicki Johnston, President and CEO, Nymeo
FREDERICK, Md. (PRWEB) October 26, 2020
Nymeo Federal Credit Union, a community-based credit union serving Frederick and Montgomery Counties, celebrated International Credit Union Day (ICU Day) on October 15th, by honoring Hometown Heroes. Nymeo encouraged members and the public to nominate someone who exemplified the credit union principle of people helping people.
"This year, ICU Day focused on inspiring hope in a global community. So many people have inspired hope in all of us during these challenging times and continue to do so," said Vicki Johnston, Nymeo's President and CEO. "Nymeo wanted to recognize local heroes who go above and beyond for others in our community."
Nominators submitted their hero via Nymeo's website and shared the reasons why his or her nomination deserved to be a "Hometown Hero". Nymeo selected a winner and reached out to both nominator and nominee to congratulate both.
"We are honored to announce our local hero, Guy Mutchler, who runs the Frederick Rescue Mission's food services department, " Johnston said. "He was nominated by Valerie Moore, his co-worker, who told us, 'I don't believe it's an understatement to say that Guy is responsible for a large number of the county residents not going hungry.'" Guy was thanked and awarded a special gift from Nymeo.
Nymeo also decided to celebrate ICU Day by inviting staff to take part in random acts of kindness.
"Each year, we normally participated in ICU Day with random acts of kindness throughout the community," said Kristina Morgan, Nymeo Chief Operations Officer. "Because of COVID-19, we weren't able to take part in events, so we encouraged our staff to spread the idea of kindness, even in a small way."
The credit union gave each employee a surprise budget of $10 to spend on others. Many Nymeo employees pooled their funds together and donated it to members who they knew needed the extra help this year.
"We told them to buy a cup of coffee for a stranger, donate to a charity, surprise a teacher with lunch – anything that shows kindness and would put a smile on a face...and warmth in your heart!" added Morgan.
About Nymeo Federal Credit Union:
Nymeo is a cooperative, not-for-profit financial institution with headquarters in Frederick, MD. Nymeo offers traditional banking products, but stands apart from other financial institutions with its outstanding customer service, innovative branch concepts, low interest rate loans and new mobile banking application for its members. Nymeo membership is open to anyone who lives, works, worships, attends school, volunteers, or conducts regular business in Frederick and Montgomery Counties. For more information about Nymeo please visit nymeo.org.