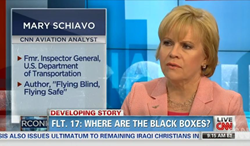 Schiavo said funeral directors become the first source of information for grieving loved ones; the next is the news – led by people Schiavo said don't always appear to realize that grieving family members are watching.
ALBANY, NY (PRWEB) November 21, 2014
Members from the New York State Funeral Directors Association's Family Assistance Commission (FAC) traveled to Albany in mid-November to participate in a program titled, "What Families Want Following a Disaster," presented by nationally-recognized aviation expert Mary F. Schiavo J.D., former Inspector General of the U.S. Department of Transportation.
Now an attorney at the Motley Rice LLC law firm representing disaster victims and a CNN Aviation Analyst, as well as a past guest on ABC, CBS, Fox News, NBC, BBC, the History Channel and Discovery Channel, Schiavo left little doubt that funeral directors are among the few involved in a disaster that truly make family members their foremost priority.
Schiavo said funeral directors become the first source of information for grieving loved ones; the next is the news – led by people Schiavo said don't always appear to realize that grieving family members are watching, but they are very much aware and concerned.
During her program she cited the Aviation Disaster Family Assistance Act, which has helped put some order to the chaos that follows a mass-casualty disaster. According to Schiavo, the Act still has many shortcomings. But prior to its passage in 1996, disaster victims' relatives endured "an unbelievable free-for-all" that included lawyers, the media, and others hounding them. Schiavo feels that surviving friends and family still face a raw and painful aftermath of government investigations until they turn from a "flurry of activity" to "silence."
"Mary Schiavo's session served as an invaluable source of information for NYSFDA's FAC team," said Douglas R. Brueggemann, Committee Chair. "Her scope of knowledge dealing with disaster is incredible. Trainings such as this allow us to better handle, support or prepare for a mass fatality incidents effectively, by properly caring for the dead as well as the living."
NYSFDA's FAC is comprised of a group of trained, licensed funeral directors from across the state that stand ready to assist New York State's local governments in the event of a disaster occurring within their borders.
According to Marianne Schrom, Director of FAC, "After such a disaster, our FAC team would use their skills to interview survivors and next-of-kin and process paperwork to assist in identifying and facilitating the release of remains to the next-of-kin or other representatives. Our team members have been chosen based on their broad experience working with families throughout the United States after a disaster causing mass fatalities has occurred."
FAC operates under the auspices of the New York State Tribute Foundation (Tribute), which is the non-profit charitable arm of NYSFDA.
FAC members are prepared to work in tandem with those coordinating disaster response efforts and all other participants to ensure that providing vital services during a time of extreme confusion and grief proceeds as smoothly as possible. The FAC's services may be engaged simply and quickly as soon as a Memorandum of Understanding (MOU) is jointly agreed upon between Tribute and the local municipality designated to lead the disaster response efforts. FAC provides its services without charge.
The following is a list of current NYSFDA FAC members:

Douglas Brueggemann, Chair – Suffolk County
Margaret Coyle – Suffolk County
Timothy P. Doyle, CFSP – Dutchess County
Leslie A. Francisco, CFSP – Queens County
Kenneth Grosser – Nassau County
Vincent D. Iocovozzi – Herkimer County
Charles N. Lecesse – Suffolk County
Randy W. McIntire – Genesee County
Christopher M. Milano – Putnam County
Edward J. Mockler – Nassau County
Louis W. Morse – Orange County
Joseph R. Noll – Nassau County
Stephanie N. Nowak-Bernius – Nassau County
Susan O'Connor – Orange County
Mark T. Phillips – Saratoga County
Wesley A. Powell, CFSP – Suffolk County
Warren H. Riles, CFSP – Chautauqua County
Norman Waterman, CFSP – Wayne County
Douglas R. Wilson – Chenango County
For more information, or to enlist the services of FAC, please contact Marianne Schrom, Director of Family Assistance Commission at 800-291-2629 or marianne(at)nysfda(dot)org.
-30-
Founded in 1889, the New York State Funeral Directors Association, Inc., represents over 900 member firms and 3300 licensed funeral directors in New York State, and is the oldest state association of funeral directors in the United States. The Association is headquartered in Albany, NY.