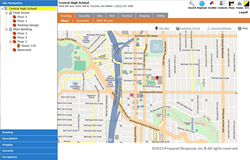 Public safety, and particularly school safety, is on everyone's mind these days. Rapid Responder leverages very accessible technology in an intelligent way that puts vital information at the fingertips of first responders when seconds count
Albany, NY (PRWEB) February 25, 2015
The New York State Sheriffs' Association (NYSSA) is working with Sheriffs throughout New York State to coordinate the deployment of a robust, standardized and affordable emergency response system, to help communities better prepare and respond to emergencies using the latest in digital technology. NYSSA has partnered with Prepared Response, Inc., based in Kirkland, WA, to provide the Rapid Responder® Emergency Preparedness and Crisis Management System to schools, hospitals and other commercial facilities in the state.
"Public safety, and particularly school safety, is on everyone's mind these days. Rapid Responder leverages very accessible technology in an intelligent way that puts vital information at the fingertips of first responders when seconds count," said Chuck Gallo, NYSSA Deputy Executive Director. "Our Sheriffs are committed to keeping the communities they serve safe, and this emergency response program allows them to be proactive in maintaining that safe environment."
11 school districts have signed up to be a part of the NYSSA Rapid Responder program and are expected to be using the system by the beginning of the 2015-2016 school year. The system ensures that comprehensive facility data is available for Sheriffs and other law enforcement agencies, fire departments, emergency medical services and other first responders in conjunction with facility personnel to cohesively respond to emergencies.
"Rapid Responder not only assists first responders with school emergencies but will also help agencies better protect other important sites such as hospitals, assisted living facilities, places of worship, key commercial facilities, critical infrastructure and additional complex locations including sports arenas and shopping malls," said Washington County Sheriff Jeff Murphy.
Rapid Responder is SAFETY Act Certified by the U.S. Department of Homeland Security as a "Qualified Anti-Terrorism Technology" and endorsed by the National Sheriffs' Association. The system provides first responders and facility leaders secure access to site-specific information including floor plans, aerial imagery, emergency plans, policies and procedures, live camera feeds and other critical information needed during a crisis. The emergency response and crisis management system is currently deployed in over 16,000 facilities throughout the country and has been successfully used during active shooter events, bomb threats, lock downs and other emergency situations.
The New York State Sheriffs' Association, Inc. is a not-for-profit corporation, formed in 1934, for the purpose of assisting Sheriffs in the efficient and effective delivery of services to the public. It is comprised of all the elected and appointed Sheriffs of New York State. More information on Rapid Responder and other NYSSA programs such as Operation SAFECHILD, Yellow Dot and GetCrashReports can be found by visiting http://www.nysheriffs.org.
©2015 Prepared Response, Inc.®