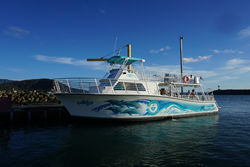 This new boat is going to totally change the experience and make it very comfortable for the guests.
HONOLULU (PRWEB) November 13, 2018
Oahu dolphin swim tour operator Dolphins and You announces the arrival of a new, bigger boat this November.
The monohull, dual-engine, 55-foot powerboat will boast two stories and an expansive front deck. It's a big change from the company's current one-story, 39-foot power boat. The size difference means the tour will be able to serve more than twice as many guests.
"This new boat is going to totally change the experience and make it very comfortable for the guests," Dolphins and You General Manager Kaina Neuman said. The boat will also have a surround-sound system, Titanic-style front railing and an impressive 15-foot water slide.
Altogether, the company has spent around $1 million on the new boat. The investment illustrates how far the tour has come in its 30 years of operation. What has become Hawaii's longest-running dolphin tour began as only three kayaks on a beach.
"What started as three kayaks turned into six kayaks, then 10, and then 12!" Dolphins and You CEO Richard Holland said. "It exploded. We were the talk of town, at the time, because we were doing something so uniquely different."
Dolphins and You eventually became the first dolphin swim tour with a commercial permit from the state of Hawaii to operate, and it has paved the way for others. Since the kayak days, the tour has gone through five different power boats. Each time the new boat has replaced the old.
The new boat was celebrated with a blessing ceremony on November 6, where Holland and the staff gathered to give thanks. It launched on its first public tour the morning after to an enthusiastic group of guests and plentiful dolphins. The new boat's increased capacity and functionality will allow Dolphins and You to expand its offerings to include whale watching and dolphin watching. It will begin whale watch tours for the first time this December.
"I'm excited to drive the new boat," Neuman said. "It's going to the jewel of the harbor."
About Dolphins and You: Dolphins and You began entertaining guests 30 years ago as the original tour of And You Creations. In 2016, And You Creations expanded to offer Nature and You, a hiking tour on the Manoa Falls Trail. The company continues its growth with the launch of an Island and You circle-island tour and whale watching tours this year.