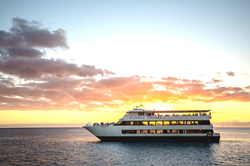 With Majestic we offer guests a cruise experience unmatched in both quality and the variety of offerings to see, capture and remember the beauty of Hawaii and the ocean environment," said Ronald Williams, president and CEO of Atlantis Adventures
HONOLULU (PRWEB) February 11, 2020
Oahu's most luxurious yacht cruise vessel, Majestic by Atlantis Cruises, has unveiled a new website, MajesticHawaii.com, for couples, families and groups wanting to enjoy dinner, cocktails and fireworks at sea, whale watching, and to celebrate special occasions.
Parent company Atlantis Adventures introduced the new site to ease the booking of Majestic's cruise experiences for guests seeking a relaxing ocean escape while taking in spectacular views of world-famous Waikiki, iconic Diamond Head Crater and beautiful, picture-perfect sunsets.
"With Majestic we offer guests a cruise experience unmatched in both quality and the variety of offerings to see, capture and remember the beauty of Hawaii and the ocean environment," said Ronald Williams, president and CEO of Atlantis Adventures.
The new website highlights in video and photos the appeal of Majestic and its sleek, spacious and state-of-the-art design. The 150-foot vessel is equipped with two air-conditioned levels including a contemporary dining room and a spacious cocktail lounge, a breezy open-air top deck, and innovative boat stability with Seakeeper technology, which better ensures a smooth, relaxing ride to enjoy an unforgettable experience.
From cruises such as the Sunset Cocktail cruise with the only full-service bar in Waikiki waters, to delicious locally-inspired meals offered through its Island Style Buffet, to the iconic weekly Friday Night Fireworks cruise, couples and families will find an awe-inspiring experience.
Additionally, guests of the seasonal Whale Watch cruise can witness the magnificent North Pacific humpback whales as they frolic, nourish their young and breed in Hawaii's waters during the winter months.
If a group wants to reserve Majestic for a special occasion or private party, its spacious decks are available for chartered cruises.
For more information, explore the capabilities of the newly launched MajesticHawaii.com site.
About Atlantis Adventures:
Atlantis Adventures is Hawaii's largest company offering ocean tour experiences on Oahu through Majestic by Atlantis Cruises and submarine tours off Waikiki Beach on Oahu, Lahaina on Maui, and Kailua-Kona on Hawai'i Island through Atlantis Submarines.
Atlantis Submarines operates the world's most technologically advanced and environmentally friendly passenger submarines, which are battery-powered and emit no pollutants or noise while gliding to depths of more than 100 feet. For more information, visit AtlantisAdventures.com.