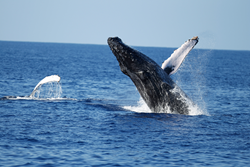 We are very fortunate to be able to welcome humpback whales back home to Hawaiian waters.
HONOLULU (PRWEB) November 27, 2018
Oahu tour operator And You Creations announces its first year of offering whale watching tours this month.
Each winter, approximately 10,000 humpback whales migrate to Hawaii from Alaska to give birth to their calves. The new And You Creations whale watch tour will operate during the peak season of whale sightings, from December to March.
"Whale season is the boat crew's favorite time of year," Dolphins and You General Manager Kaina Neuman said. "We are very fortunate to be able to welcome humpback whales back home to Hawaiian waters."
Though the company has always offered dolphin swim tours, it is now able to diversify its ocean tour offerings thanks to its new boat. The investment in the vessel has increased passenger capacity two-fold. With two decks, the new boat is also ideal for spotting marine life.
The company has also purchased exciting hydrophone technology that will allow guests on board to hear whale and dolphin sounds from beneath the sea. The whale songs will be broadcast to tour guest over an all-new surround sound system.
Whale watch guests will enjoy the same tour amenities as the dolphin swim guests, including hula performances, a 20-foot waterslide and a taro bun burger lunch.
To celebrate the milestone, And You Creations will be offering whale watching tours at $20 off the regular price, this year only.
Promotion: First Whale Watch Special

Dates: December 1, 2018 - March 31, 2019
Tour: Whale Watching
Discount: $20 off
Adults: $109.00
Children: $79.00
About And You Creations: And You Creations originally started 30 years ago as Dolphins and You, the longest-running and highest-rated dolphin swim tour on Oahu. In 2016 the company started Nature and You, a hiking tour on the Manoa Falls Trail and earlier this year it launched Island and You, a circle-island tour of Oahu focused on experiencing local Hawaiian dishes.