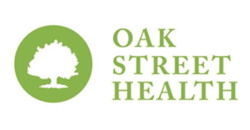 CHICAGO (PRWEB) April 09, 2019
Oak Street Health, a network of primary care centers providing a new model of value-based primary care to Medicare patients, and Aetna, a CVS Health Company (NYSE:CVS) have entered into an innovative value-based network agreement in Indiana and Michigan. Effective April 1, 2019, Aetna® Individual Medicare Advantage members and retirees that receive coverage through Aetna Group Medicare Advantage plans will have access to Oak Street Health's primary care centers.
"Expanding our partnership with Aetna will bring our proven model of preventive, personalized care to Aetna's members in Indiana and Michigan," said Rafe Petty, division president of Oak Street Health. "We couldn't be more excited to introduce an additional 1.6 million Medicare-eligible Aetna members to our holistic approach to health. We look forward to seeing these members in our centers throughout Michigan and Indiana over the coming months."
Oak Street Health's community-based care model focuses on the overall value of health care for its patients. Its facilities feature more comprehensive services than a traditional doctor's office. These include 24-hour access to a physician, flexible scheduling, more face time with doctors, community health and wellness events, state-of-the-art technology and a dedicated care team to coordinate all health needs. This proven strategy has reduced Medicare hospitalizations in other Oak Street facilities by more than 40 percent*.
"Aetna is a leader in providing innovative ways to access care for our members, enabled by strong, collaborative provider partnerships with aligned incentives for all," said Gregg Kimmer, executive director and general manager for Aetna Great Lakes Individual Medicare Advantage plans. "By working together with Oak Street Health, we will be able to collectively help deliver improved outcomes and a superior experience to our Medicare members, meeting them in their communities where many of the conversations between patients and providers occur."
To learn more about Oak Street Health's value-based primary care model and the latest openings in the Cleveland area, visit https://www.oakstreethealth.com.

Porter, Michael E., Lee, Thomas H., & Alger, Meredith A. Oak Street Health: A New Model of Primary Care. Harvard Business School Case Study (2017), 10.
About Oak Street Health
Oak Street Health is a rapidly growing company of primary care centers for adults on Medicare in medically underserved communities. Oak Street's care is based on an entirely new model that is based on value for its patients, not on volume of services. The company is accountable for its patients' health, spending more than twice as long with its patients and taking on the risks and costs of their care. Oak Street Health has been investing in communities since 2013 – providing much-needed primary care for tens of thousands of people.
About Aetna
Aetna, a CVS Health business, serves an estimated 39 million people with information and resources to help them make better informed decisions about their health care. Aetna offers a broad range of traditional, voluntary and consumer-directed health insurance products and related services, including medical, pharmacy, dental and behavioral health plans, and medical management capabilities, Medicaid health care management services, workers' compensation administrative services and health information technology products and services. Aetna's customers include employer groups, individuals, college students, part-time and hourly workers, health plans, health care providers, governmental units, government-sponsored plans, labor groups and expatriates. For more information, visit http://www.aetna.com and explore how Aetna is helping to build a healthier world. @AetnaNews
Aetna Medicare is a PDP, HMO, PPO plan with a Medicare contract. Our SNPs also have contracts with State Medicaid programs. Enrollment in our plans depends on contract renewal. Other physicians/providers are available in our network. See Evidence of Coverage for a complete description of plan benefits, exclusions, limitations and conditions of coverage. Plan features and availability may vary by service area.