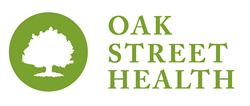 CHARLOTTE, N.C., and GREENSBORO, N.C. (PRWEB) November 11, 2019
Oak Street Health, a network of primary care centers that delivers value-based care to adults on Medicare, has opened two new centers in Greensboro and Charlotte, with an additional center in Charlotte under development. Committed to rebuilding healthcare as it should be, Oak Street Health offers an entirely different model of care that emphasizes quality of care rather than quantity of services. Its proactive focus on integrated and preventive services improves outcomes for patients.
Patients who visit the centers will have a healthcare experience they may not have encountered before, including extended time with their provider and individualized treatment plans, community-centered support for social wellness, and access to transportation to and from the appointment for eligible patients. Since its founding in 2012, Oak Street Health has seen a 41 percent reduction in patient hospital visits.
"Our approach to rebuilding healthcare as it should be has led to improved health outcomes for adults across the Midwest and the Northeast, and we're thrilled to expand our approach to communities in North Carolina," said Grant Walker, Regional Vice President at Oak Street Health. "We look forward to welcoming patients to our centers so they can have easy access to the high-quality, integrated and personal healthcare they so deserve."
The Greensboro center is located at 1007 Summit Avenue and the Charlotte center located at 3250 Freedom Drive. A third center in development will be located in East Charlotte. Patients enrolled in Humana Medicare Advantage plans and UnitedHealthcare Medicare Advantage plans will have access to Oak Street Health's first three patient care centers in the state.
"We are expanding Oak Street Health's model to a new region to answer a growing need for individualized patient care in North Carolina," said Mike Pykosz, CEO of Oak Street Health. "By focusing on quality of care - not volume of services - our model is closing a critical gap in healthcare. We know our approach is making a difference in the lives of our patients and we're thrilled to offer these services to thousands more with this expansion."
To learn more about Oak Street Health's value-based primary care model, visit oakstreethealth.com.
About Oak Street Health
Oak Street Health is a network of primary care centers for adults on Medicare designed to make healthcare more personal, equitable and accountable for all. Oak Street Health centers offer more than a standard visit with a doctor by providing transportation to and from appointments for eligible patients, insurance education, and other supplemental services such as podiatry, behavioral health, and in-center pharmacies. To encourage social wellness, each center hosts social, fitness and learning activities throughout the year.