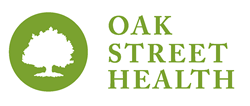 PROVIDENCE, R.I. (PRWEB) November 15, 2018
In a move designed to provide Medicare members with access to high-quality, personalized care in a community-center setting, Blue Cross & Blue Shield of Rhode Island (BCBSRI) and Oak Street Health, a network of primary care centers serving Medicare patients, announced a new primary care delivery partnership in Rhode Island. Oak Street Health will open two centers in Providence and a third in Warwick in spring 2019.
Oak Street Health's unique care model offers a completely holistic, preventive approach to healthcare that goes beyond the scope of traditional primary care. Transportation – provided at no cost to patients – ensures they have full access to Oak Street Health centers, where they not only spend one-on-one time with a care team, but also are encouraged to attend social and educational events where they can connect with other seniors. With a focus on preventive care and expertise in treating Medicare members with multiple chronic conditions, Oak Street Health has built a track record of successful health outcomes for Medicare members in other states including Illinois, Michigan, Ohio, Indiana and Pennsylvania.
"This partnership with Oak Street Health will catalyze a completely new kind of healthcare delivery that reflects our vision of passionately leading a state of health and well-being across Rhode Island," said Kim Keck, BCBSRI president and CEO. "It's a logical extension of our substantial investment in primary care practices that put patients at the center of a coordinated ecosystem of care. It also aligns perfectly with what we've created in our Your Blue Store retail locations, where Rhode Islanders have told us how much they appreciate the extraordinary level of personal attention they receive."
Keck added, "Now, we are collaborating with an organization that takes this same approach to providing care, especially for our members, whose complex conditions span physical and behavioral health. It's a care model for today that gives us hope for the future, and Rhode Island is leading the way."
"Blue Cross & Blue Shield of Rhode Island clearly shares our commitment to improving the lives of Medicare members and bringing quality healthcare to its residents," said Mike Pykosz, CEO of Oak Street Health. "We're excited to come to a state where the groundwork has been laid to deliver on our mission of rebuilding healthcare as it should be."
Oak Street Health's care model is designed to meet the health and wellness needs of older adults with Medicare coverage. Physicians, along with a dedicated care team, spend twice as much time with patients compared to the typical PCP. For patients who require medical attention at home, Oak Street Health's complex care teams provide much-needed medical attention until patients are able to return to their local center. Complimentary door-to-door transportation ensures patients never have to worry about getting to and from appointments, and an Oak Street Health-staffed telephonic support line is available 24-7. As a result, Oak Street Health has reduced hospital admissions and emergency visits among its patient population by more than 40 percent.
Each Oak Street Health center also offers services to help patients understand their insurance benefits and hundreds of community-centered activities such as fitness, educational classes and entertainment that help address growing issues like loneliness and isolation.
Oak Street Health currently employs more than 1,300 people across more than 40 centers, most of whom live near the center at which they work. When patients walk into an Oak Street Health center they are often cared for by people who live in the community, and who understand the unique needs of its residents.
"Our patients can count on friendly and recognizable faces at each center; we're committed to making each center a cornerstone of its local community, and we're purposeful in meeting our patients' cultural needs and speaking their native languages," Pykosz said. "In all of our markets, we're dedicated to investing in, and hiring from, the local community. We anticipate adding a substantial amount of new jobs in Rhode Island in the next several years."
The Oak Street Health centers are slated to open in spring of 2019. All three centers are open to Rhode Island residents with Medicare coverage. The locations are:

712 Broad Street, Providence
650 Branch Avenue, Providence
300 Quaker Lane, Warwick
To learn more about Oak Street Health's value-based primary care model, visit http://www.oakstreethealth.com.
About Oak Street Health
Oak Street Health is a rapidly growing company of primary care centers for adults on Medicare. Oak Street's care is based on an entirely new model that is based on value for its patients, not on volume of services. The company is accountable for its patients' health, spending more than twice as long with its patients and taking on the risks and costs of their care. Oak Street Health has been investing in communities since 2013 – providing much-needed primary care for tens of thousands of people.
About BCBSRI
Blue Cross & Blue Shield of Rhode Island (bcbsri.com) is a non-profit, community-focused health plan founded in 1939 to help Rhode Islanders finance their healthcare needs. Today, that's still a big part of what we're all about. We are committed to improving the health and peace of mind of our nearly 400,000 members by facilitating their access to affordable, high-quality healthcare. Our goal is to improve the quality of life of our customers and of the people of Rhode Island by improving their health for generations to come. We are an independent licensee of the Blue Cross and Blue Shield Association. Connect with us on Twitter, Facebook, LinkedIn and Instagram. Listen to BCBSRI's podcast, The Rhode to Health, at soundcloud.com/therhodetohealth.