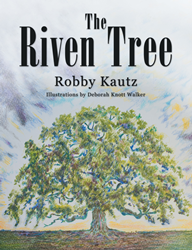 "I grew up in a home where violence scarred and altered my life," Kautz said. "But several years ago, while attending a silent retreat, God gave me a vision that brought internal healing and completely changed my life."
EAGLE, Idaho (PRWEB) April 13, 2020
Over half of the American population has experienced at least one traumatic life event, while many people endure years of trauma (SAMHSA-HRSA Center for Integrated Health Solutions). Despite these statistics, the subject is still incredibly stigmatized. Author Robby Kautz is working to change that by offering a beautifully illustrated story addressing the effects of trauma on an individual. "The Riven Tree" is sure to touch the lives of readers and inspire them to look to God for reassurance and healing.
Oak's life begins as a tiny acorn, born in the shade of her mother's leaves; she grows over time to become tall, strong and beautiful. She is loved by animals and children seeking her shady refuge in the warm summer sun.
Then, one morning, a violent thunderstorm forms in the meadow and her trunk is slashed by a bolt of lightning. Oak's appearance is forever altered—in her eyes, she is horribly disfigured.
Oak becomes ashamed of her appearance and comes to believe God has no use for her because she's too damaged, so she channels all her energy into producing beautiful leaves to cover her imperfections. When she finally asks God the questions she's never verbalized, his answer brings her peace and self-acceptance.
Like Oak, Kautz also experienced trauma in her childhood that had long-lasting effects. "I grew up in a home where violence scarred and altered my life," Kautz said. "But several years ago, while attending a silent retreat, God gave me a vision that brought internal healing and completely changed my life."
Kautz has had several opportunities to share her message of hope and God's plan to heal broken hearts. Her impactful story will leave readers with a fresh outlook on all the beauty life has to offer. "My purpose in writing this book is to plant seeds of healing in those whose lives have been affected by trauma. I want to help them remember that they are not alone."
One Amazon reviewer praises the book's message: "[Oak] struggles, but eventually realizes her unique beauty and design are just as lovely as those she admires. I highly recommend this book to anyone who has been "scarred" in life, or cares about someone who has."
"The Riven Tree"
By Robby Kautz
ISBN: 9781480866744 (softcover); 9781480866751 (hardcover); 9781480866737 (electronic)
Available at Archway Publishing, Amazon and Barnes & Noble.
About the author
Robby Kautz is a freelance author and a women's speaker. She has spoken for Stonecroft Ministries throughout northern California and led silent retreats for women in her church. As an author, Kautz has had stories published in Guideposts and Mysterious Ways magazines as well as the book "Life Changing Miracles." She has been an interpreter for the Deaf, a stay-at-home mom and a high school teacher. She holds a degree in Biblical and Theological Studies. To learn more about Kautz and her book, visit http://www.theriventree.com.
For Interview Requests & Review Copies, Please Contact:
LAVIDGE – Phoenix
480-648-7560
ktillman@lavidge.com
###