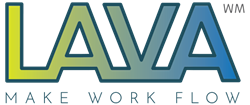 "Every day you wait for new efficiencies and support for new growth," said Cook, "you do so at your own risk."
WINSTON-SALEM, N.C. (PRWEB) February 19, 2020
Oakbrook Solutions, among the nation's leading providers of technology-based solutions to RIAs, Private Banks, Family Offices, and other wealth-management entities, has spun off its workflow optimization and automation business into a dedicated firm aptly named, LAVAwm. ("wm" = wealth management.) The firm is, and will remain, a unit of Oakbrook.
LAVA will apply decades of deep experience and expertise to offer wealth management workflow optimization and automation rooted in smart process design, system integration that yields speed and flexibility, and cost-effective implementation; all to turn slow, error-prone manual workflows into substantive opportunities to reduce cost, ensure compliance, drive scale, and spur profits.
Oakbrook, named "Best Consulting Firm for Family Offices" at the 2019 Private Asset Management (PAM) Awards, and "Best Family Office Management Consultancy" for the third consecutive year at the 2018 Family Wealth Report Awards, will continue to serve wealth management in the areas of system integration, data conversion, project management, vendor search and selection, and more. Both Oakbrook and LAVA will be led by Oakbrook co-founder and CEO Craig Cook.
Why Now?
Why is workflow automation an immediate imperative for wealth management? Because technology's endless capacity to create new value notwithstanding, client service still suffers from old pathologies: processes that are needlessly complex, legacy systems that are surprisingly still in use, integrations that are maddeningly unmanageable, and mountains of paperwork that inexplicably still exist.
More, these vulnerabilities persist precisely when firms BPM should be consolidating their strengths to survive a challenging landscape marked by soaring client demands, falling revenue, the rising cost of compliance, and new client-focused processes that add organizational complexity.
"Every day you wait for new efficiencies and support for new growth," said Cook, "you do so at your own risk."
Coupling technological prowess with a deep appreciation of wealth-management operations creates a competitive advantage for LAVA. So does its embrace of pure-play BPM.
"While many technology providers take workflow capabilities, bolt them onto legacy applications, and market the hodgepodge as "BPM," said Cook, "LAVA is pure-play BPM, which means that our assessments and solutions originate in workflow management. And because they do, they solve for the future state – what's next – as opposed to what was."
All Challenges Welcome!
When Cook says that LAVA is open for business, he means it literally. "We welcome all challenges," he affirms. "If a firm is small, with startup AUM of $1 billion or less, many of our competitors will likely ignore it. We won't, because its challenges and opportunities are as valid as those of much larger firms. And if a firm has over $5 billion in AUM, hundreds of advisors, thousands of clients, and portfolios of complex products, it will likely scare off a good many of our competitors – but not us! Open for business should mean open to all."
For those inclined to start modestly, LAVA will create a process-architecture strategy (current/future state with technical and client topology) to serve as a firm foundation for future automation. And for those looking for more – to take manual tasks and transform them into streamlined digital processes – LAVA will re-engineer current workflows for optimal efficiency and integration.
Contact:
Craig Cook
http://www.lavawm.com
(336) 714-0321 x1 or craig@lavawm.com