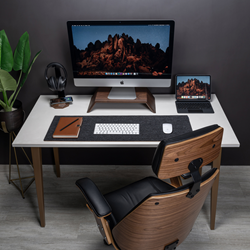 CICHE, Poland (PRWEB) November 17, 2020
Today, Oakywood Woodworking Company, the Polish wood-maker turned design-forward office and tech accessory brand, has launched a new work-from-home collection for the modern professional.
Oakywood's home office essentials collection was created to spur creativity, ensure comfort, and improve the efficiency of work. The collection features desktop accessories carefully designed to enable comfortable and productive work from home, including soft desk mats and pads made from premium merino wool felt and ecological cork, laptop and monitor stands, smartphone docks and wireless chargers, audio accessories, and even planters and pots.
"The last thing people need to be stressing over right now is designing an attractive and comfortable, yet functional workspace," said Mateusz Haberny, Oakywood's founder. "We designed Oakywood's new work-from-home collection to offer professionals a one-stop shop for all of their home office essentials, so they don't have to even think twice."
Each product in Oakywood's work-from-home collection has been designed to provide a peak functionality and durability and handcrafted by enthusiasts of working with wood. Every product is manufactured with sustainability at the forefront using certified crafting materials.
To learn more or to shop Oakywood's work-from-home collection, visit the brand's online store at http://www.oakywood.shop/collections/work-from-home-desk-accessories.
About Oakywood:
Based in the beautiful mountainous terrain of Podhale in Ciche, Poland, Oakywood Woodworking Company has evolved the centuries old woodworking heritage of the area to create warm but functional modern consumer tech and desk accessories from natural, ecologically sourced wood materials. For every Oakywood product sold, the brand plants one tree to help off-set their environmental footprint.
Oakywood was founded in 2017 with what started as a mere sketch; that sketch quickly evolved into Oakywood's first product, the Wooden iPhone Docking Station, that the brand's founder Mateusz Haberny handcrafted in his father's carpentry shop. Since, the brand has grown to feature a catalog of more than 140 unique SKUs that are available globally.
To learn more, visit http://www.oakywood.shop or follow the brand at
http://www.instagram.com/oakywood.