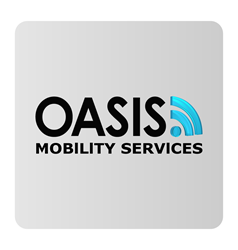 Having the right cases and mounts for proper security and all-season utility of the devices is almost as important as the device itself.
CORNELIUS, N.C. (PRWEB) June 11, 2020
OASIS Mobility is proud to announce the availability of GPS Lockbox® Cases and Mounts on the Geotab Marketplace, a growing portfolio of mobile apps, hardware Add-Ons and software Add-Ins that enable Geotab customers to better manage their fleets.
"The Geotab Marketplace is a dynamic solutions center for fleet management," said Matt Evans, VP of Sales and Distribution for OASIS Mobility. "We are delighted to offer our solutions, including GPS Lockbox cases, to the Geotab ecosystem."
GPS Lockbox cases offer a unique design to help support compliance with ELD regulations and provide fleets with a reliable solution for in-cab technology. Via the Geotab Marketplace, OASIS Mobility now offers Geotab customers a one-stop source to procure cases and receive expert assistance with managing various facets of mobile device equipment and accessories, helping customers achieve a work-ready solution for their mobility program.
Manufactured to support mobile device equipment in a variety of circumstances, including weather and drop protection, GPS Lockbox cases provide a safeguard in extreme temperatures, which can be a major issue for ELD tablets. When the temperature is either too cold or too warm, the device may automatically shut down to protect itself, presenting a potential problem for fleets that rely on working ELDs to remain compliant. The patent-pending ATMOS® temperature-regulating cradle helps keep tablets from freezing in the winter and overheating in the summer, helping to ensure fleets remain compliant, no matter the temperature.
In addition to the unique ATMOS® temperature controlling cradle which sustains the tablet or phone's normal temperature range, GPS Lockbox cases and mounts also include a magnetic quick connect charging port, which safely secures the device when away from the vehicle.
"Having the right cases and mounts for proper security and all-season utility of the devices is almost as important as the device itself," added Lance Merklein, Senior Vice-President - Mobile Fleet Solutions for OASIS and former VP Safety and Risk Management for Cardinal Logistics. "GPS Lockbox's various case and mount configurations allow for optimal field use and functionality. Plus, the magnetic charging feature alone aids in preventing disruptions to the power and ELD source connection, helping to mitigate log documentation and DataQ challenge issues."
With OASIS Mobility, Geotab customers can purchase tablets, smartphones, cases and all other accessories without having to travel to a wireless carrier store. OASIS integrates an entire solution for the logistics industry by providing a bundle of all hardware needed to go with a tablet or smartphone.
About OASIS Mobility
OASIS Mobility is a leading provider of mobility procurement and support services across the U.S., offering a one-stop shop for the procurement and support of smartphones and tablets with the major U.S. carriers. OASIS specializes in helping companies make informed decisions pertaining to confusing wireless rate plans, promotions, discounts and selecting equipment for the top four wireless carriers.
OASIS' experienced mobility representatives offer a wealth of information to reduce wireless expenses while supporting their clients' corporate wireless users. OASIS serves as a single point of contact for companies and fleets to offload the tasks associated with ordering new devices and upgrading equipment for their employees.
About Geotab
Geotab is advancing security, connecting commercial vehicles to the internet and providing web-based analytics to help customers better manage their fleets. Geotab's open platform and Marketplace, offering hundreds of third-party solution options, allows both small and large businesses to automate operations by integrating vehicle data with their other data assets. As an IoT hub, the in-vehicle device provides additional functionality through IOX Add-Ons. Processing billions of data points a day, Geotab leverages data analytics and machine learning to help customers improve productivity, optimize fleets through the reduction of fuel consumption, enhance driver safety, and achieve strong compliance to regulatory changes. Geotab's products are represented and sold worldwide through Authorized Geotab Resellers. To learn more, please visit follow us @GEOTAB and on LinkedIn.
OASIS website For Geotab Resellers
855-687-8500
info@oasismobility.com
OASIS Contact: Lance Merklein- Senior Vice-President - Mobile Fleet Solutions