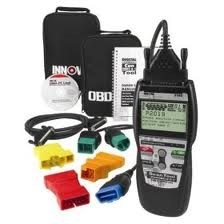 We've provided what could be the most complete resource for OBD II scanners and the best ones to purchase for buyers.
Albany, NY (PRWEB) August 07, 2013
The Apple iPhone is one of the most intelligently-designed smartphones currently marketed to consumers. Automotive technologies are now capable of integrating with these phones and one online retailer is helping consumers. The Got Engines company has now reviewed the best OBD2 iPhone compatible readers online at http://www.gotengines.com/blog/reviews/obdii-scanner-reviews-obd-2-scanner-diagnostic-code-reader.
Smartphone applications are now written by third party companies supplying machinery to the automotive industry to incorporate with engine codes and other diagnostic codes.
Several top companies are now included inside the GotEngines.com review to assist consumers with finding a compatible device.
"The code readers produced 20 years ago were listed for thousands of dollars and new apps are available for less than $15 online," said an engine expert from the Got Engines company online. The ability for a consumer to diagnose automotive repair issues can be one way that repair costs are reduced.
Professional diagnostic equipment has now been scaled down for the consumer market and engine and transmission codes can be read by simpler pieces of software. The iPhone diagnostic equipment and apps that are available can be used with any mobile phone carrier providing Apple monthly data plans or Bluetooth transfers.
"We've provided what could be the most complete resource for OBD II scanners and the best ones to purchase for buyers," the expert concluded. The new information that can be accessed by buyers online is one portion of the company business model.
The GotEngines.com website is a used engine resource that connects sellers with buyers at the touch of a button. The engines that are distributed through this company resource are shipped without freight charges as a special customer incentive.
The complete inventory published in the past several months online can be reviewed inside the content management section of the Got Engines website at http://www.gotengines.com/blog online.
About GotEngines.com
The GotEngines.com company sells replacement automotive engines and reviews consumer purchased products from retailers online. This company has earned a selling reputation in the secondary market for its pricing as well as quality of components shipped nationwide. The GotEngines.com website is one of the most trafficked sources that are currently used on the Internet by consumers researching replacement engines for sale. The reviews and strategies are now written by company representatives and posted online in an ongoing series in 2013 slated for continuance in the coming year.