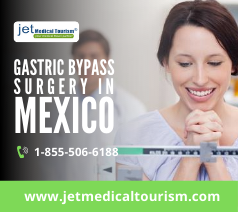 Jet Medical Tourism® patients of gastric bypass surgery should note the contents of this new guideline: "Diets don't work" – Doctors should recommend gastric bypass surgery or other bariatric procedures for weight loss
SAN DIEGO (PRWEB) August 26, 2020
The Canadian Medical Association Journal has published a new clinical practice guideline on obesity treatments. Jet Medical Tourism® gastric bypass surgery patients should carefully note this guideline to make more informed choices. The guideline says that obesity should be determined not just by how much a person weighs, but also by their general health condition. Based on this new guideline, doctors may recommend surgical procedures that may include sleeve gastrectomy or Roux-en-Y gastric bypass surgery.
"Diets Don't Work"
Ximena Ramos-Salas, one of the authors of the new guideline and a director at Obesity Canada, said that "Diets don't work" for people suffering from obesity. Research has shown that most people regain weight after losing it on a diet. Data from Statistics Canada reveals that in the last 30 years, the rate of obesity in Canada has tripled. Nearly one in four persons in Canada is now clinically obese.
The guideline, which has been updated after 14 years, was funded by the Canadian Association of Bariatric Physicians and Surgeons, Obesity Canada, and the Canadian Institutes of Health Research. It suggests that doctors should look at the root causes of why a patient gained excess weight rather than merely advising diet and exercise as the solution.
Gastric Bypass Surgery Helps
According to Ramos-Salas, simply asking an individual suffering from obesity to eat less and exercise more is not a solution. The new guideline encourages doctors and surgeons to offer support to patients with treatments such as gastric bypass surgery, medications, and psychological therapy.
While the guideline continues to validate criteria such as waist circumference and BMI for diagnosing obesity, it recognizes the clinical limitations of these parameters. It says that physicians should focus more on how the excess weight is affecting the individual's health. The guideline strongly speaks against the tendency to blame and shame the patient, and recognize obesity as a chronic, complex, and progressive disease that requires long-term management.
Access to Bariatric Surgery
The new guideline says that people who are living with obesity should have access to various evidence-based interventions, including surgery. It advises that bariatric surgery could be considered for individuals with a BMI of 40 or above as well as for those who have a BMI of 35 or above with at least one underlying obesity-related medical condition.
The decision to recommend bariatric surgery procedures, such as gastric bypass surgery, should be made after taking into account the patient's health condition, estimated risks and benefits of the surgery, and the patient's expectations.
The guideline highlights that obesity impairs health, reduces longevity, and increases medical complication risks.
Dangers of Obesity
The new Canadian clinical guideline says that obesity predisposes a person to the development of several health complications, including:

Type 2 diabetes
Fatty liver disease
Gallbladder disease
Gout
Colon cancer, kidney cancer, esophagus cancer, endometrial cancer, breast cancer (an estimated 20% of all cancers occur due to obesity, according to research cited in the new guideline)
The guideline goes on to say that obesity has emerged as a serious public health issue over the decades, and it leads to increased costs of healthcare. In addition to experiencing physical and psychological challenges and increased mortality, people who live with obesity face social stigma and bias.
Health Benefits of Gastric Bypass Surgery
Permanent weight loss, improved body fitness, higher energy levels, enhanced physical appearance, and emotional and self-esteem benefits are some of the well-recognized advantages of gastric bypass surgery. But more importantly, the procedure will also provide numerous health benefits, such as:
Resolution or Long-term Remission of Diabetes
Gastric bypass surgery will either resolve your symptoms of type 2 diabetes or your hard-to-control diabetes condition may go into long-term remission. Most patients can expect to eliminate their dependence on insulin and other drugs post-surgery.
A Healthier Heart
Gastric bypass surgery will reduce your risk of stroke, coronary heart disease, and peripheral heart disease. With improved cardiovascular health, your cholesterol levels can become normal or close to normal, while your hypertension symptoms can be resolved.
Elimination of Sleep Apnea
Obstructive sleep apnea (OSA) is a common ailment that patients of obesity suffer from. Gastric bypass surgery will help you restore your normal body weight, leading to elimination of your OSA symptoms. You may no longer need to use CPAP or other devices during sleep.
Relief from Depression
Anxiety or depression may occur in many people who struggle with obesity. Social stigma and poor self-image often exacerbate these problems. Gastric bypass surgery can help eliminate obesity, resulting in a dramatic improvement in your emotional and mental health. Gastric bypass before and after pictures can help you visualize how you might look after losing excess body weight with Roux-en-Y gastric bypass surgery.
Other Health Benefits

Resolution of fatty liver disease
Lower risk of certain types of cancer
Improved fertility
Joint pain relief
Alleviation of metabolic syndrome
Reduced symptoms of gallbladder disease
Reduced pregnancy complications
Jet Medical Tourism® – Gastric Bypass Surgery in Mexico
Jet Medical Tourism® is a leading provider of low-cost gastric bypass surgery in Mexico. Patients seeking permanent weight loss with a safe and affordable gastric bypass surgery should check out the all-inclusive package of Jet Medical Tourism®.
Highly qualified and experienced bariatric surgeons in Mexico perform a large number of successful gastric bypass surgeries every year at well-equipped and reputable hospitals and clinics in Mexico. Jet Medical Tourism® is providing free virtual consultations with eminent Mexico weight loss surgeons. Contact us today.
Phone: (855) 506-6188
Email: schedule@jetmedicaltourism.com
Website: https://jetmedicaltourism.com