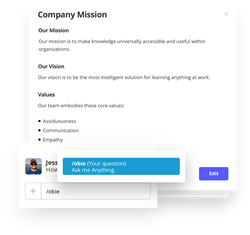 Obie Access could not have come to the market at a more critical time when newly distributed teams need it the most. It is time for these teams to learn what all of our larger customers know; Obie helps accelerate internal support by connecting them to the knowledge they need from wherever they work
SAN JOSE, Calif. (PRWEB) April 15, 2020
Obie.ai, a leading knowledge base software company that offers the market's preeminent Slack-based knowledge management solution, announced today that they will be expanding their product offering to include "Obie Access", a plan designed specifically for remote companies, startups and teams of less than 50 people.
Over 7,000 teams have used Obie.ai's products to bring existing knowledge, like that authored in platforms such as Google Drive, Atlassian Confluence, Box and many others, into one searchable source of truth. Obie enables teams to build a knowledge base from scratch, capture knowledge from conversation history and make existing knowledge instantly more accessible within the flow of work.
"We are excited to make Obie Access available to the world, especially with the recent dramatic shift to remote working arrangements for companies of all shapes and sizes," said Chris Buttenham, Founder and CEO of Obie.ai. "Obie Access could not have come to the market at a more critical time when newly distributed teams need it the most. It is time for these teams to learn what all of our larger customers know; Obie helps accelerate internal support by connecting them to the knowledge they need from wherever they work."
"We are fortunate to have had the opportunity to work with customers that made the shift to remote long before the pandemic. We've taken learnings from these customers, like Veeva Systems, and applied them to the design of Obie Access," said Chris Buttenham.
"Our work is highly knowledge-intensive and knowledge is scattered everywhere - endless documentation, emails, Slack messages. Obie helps us to save time spent locating the right information," said Rostyslav Khomyak, Profiling Lead at Veeva Systems. Veeva Systems develops a CRM solution for the life sciences sector and have leveraged Obie to keep up with the 10x in user engagement they have experienced in the wake of COVID-19.
With the COVID-19 pandemic crisis causing teams to pivot to work-from-home and remote arrangements, this product release is both timely and effective for startups and teams looking to begin their knowledge management journey with rigor.
Obie Access solves a number of knowledge problems

Makes existing wikis, notes, templates, presentation decks, process documents, handbooks and how-to's instantly searchable and accessible from workspaces like Slack
Uses AI to help teams that are early on in their journey of capturing, organizing and delivering company knowledge into a single source of truth
Caters to budget conscious remote companies, startups and small teams in larger companies
Learn more about Obie Access: https://obie.ai/solutions/access/how-it-works
About Obie.ai
Obie.ai is backed by investors including 500 Startups, Dash40 and Enterprise Fund (founded by a former Atlassian executive), to name a few. Obie customers, such as Cvent, RigUp and Woolworths, have asked almost 500,000 questions through their products since launching in 2017. On a mission to make knowledge universally accessible at work, Obie leverages AI to capture knowledge from silos and deliver answers where questions are asked. They also host the Accelerating Support podcast, which features interviews with thought leaders in the support management space. Twitter: @askObie Blog: https://obie.ai/blog
Chris Buttenham, Founder & CEO
Obie.ai
75 E Santa Clara St, 600
San Jose, CA, 95113
888.501.7942
https://obie.ai