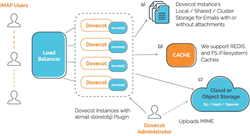 Who doesn't want to drive the costs down on their email platform?
SUNSHINE COAST, Queensland (PRWEB) October 23, 2017
atmail, a leading email hosting solutions provider and the company behind more than 40 million mailboxes worldwide, today announced the release of their newest product, store(obj), an object storage plugin for Dovecot, designed to help email administrators drive email storage costs down.
"Our new object storage plugin is yet another example of our commitment to continually improve our offering and help customers reduce their costs," said CEO Dave Richards. "After all, who doesn't want to drive the costs down on their email platform?"
Additional benefits of atmail's store(obj) plugin include: reduction of an organisation's exposure to the inherent risks of storing all of their data in-house; compatibility with various cloud storage and cluster file system vendors; de-duplication support; compression support; cache support for bandwidth optimisation; and flexible administration (for example, an email administrator can choose which attachments will be uploaded to cloud storage, based on multiple parameters).
Object storage brings simplification of current file system storage from a directory structure of traditional file systems to a flat list of 'buckets', that store information using unique IDs rather than filenames. This means that for each piece of data stored, the amount of overhead data (metadata) required is significantly lower than a traditional file system. Object storage systems store this metadata with the object itself, which makes it very easy to scale. High availability is provided by replicating the objects across many geo-locations and disk drives.
Whilst object storage might have only gathered some serious steam in recent years with the rise of Amazon S3, the origins of object storage can be credited back to research on Network Attached Secure Disks led by Garth Gibson in 1995. That was the research that first promoted the concept of splitting less common operations (such as namespace manipulations), from common operations (such as read and writes), to optimise the performance and scale of both. Source
About atmail:
atmail is an email solutions provider with nearly 20 years of experience solving email headaches for telecommunications and hosting providers. Based in Australia, with representatives in the United States, Europe and India, the company currently powers more than 40 million mailboxes across 90 countries worldwide. Their products include both cloud and on-premises options.
For more information, please contact sales(at)atmail(dot)com.
https://www.atmail.com/object-storage/
Company contact: Andrea Martins marketing(at)staff(dot)atmail(dot)com