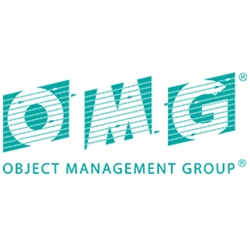 NEEDHAM, Mass. (PRWEB) July 28, 2020
International technology standards consortium Object Management Group® (OMG®) announced important updates from its quarterly membership meeting, a virtual meeting that took place from June 22-26, 2020. The chairs of OMG Task Forces (TFs) and Special Interest Groups (SIGs) presented updates about their standards work that will influence the future direction of technology, from distributed ledger technologies to modeling to space communications, among other areas.
Here is a summary of the accomplishments and work in process of OMG working groups:
"The Artificial Intelligence Platform Task Force (PTF) hosted four presentations: Alan Johnson presented the work done by the MIMOSA association in conjunction with ISO TC184 on digital twins; Dr. Karl Gosejacob addressed challenges with sampling in AI; Prof. Tim Finin talked about knowledge graphs for cybersecurity; and Vicky Hailey described the work of IEEE and ISO on AI ethics. The task force continued to discuss its roadmap and potential RFPs worth issuing," said Claude Baudoin, Co-chair, Artificial Intelligence PTF and Owner and Principal Consultant at cébé IT and Knowledge Management.
"The Blockchain Platform Special Interest Group (PSIG) met with the Middleware and Related Services Platform Task Force for updates from IOTA on the upcoming IOTA protocol submission. The groups also continued work on an RFP for Linked Encrypted Transaction Streams in the distributed ledger technology (DLT) space and considered a new RFP for context-specific, self-sovereign identity. A demonstration and update to the Distributed Immutable Data Objects documentation suite covering best practices and standard use in DLT ecosystems also took place," said Mike Bennett, Standards Coordinator, IOTA Foundation and Co-Chair of the Blockchain PSIG.
"The Business Modeling & Integration Domain Task Force (DTF) reviewed the status of several deliverables in progress, including the Business Architecture Core Metamodel, the Standard Business Report Model, discussion papers on risk and requirement management, and a suite of specifications identified during the adoption by the healthcare community of Business Process Modeling models and notations for processes, cases and decisions. The new specifications under preparation include the Provenance & Pedigree Model and Notation, the Specification Common Elements, the Situational Data Model and Notation and the Knowledge Package Model and Notation," said Claude Baudoin, Co-chair, Business Modeling & Integration DTF and Owner and Principal Consultant at cébé IT and Knowledge Management.
"The C4I Domain Task Force (DTF) successfully completed its work to produce the Future Airborne Capability Environment (FACE™) profile for the Unified Architecture Framework 1.0 beta specification, which is now in a finalization task force," said Matt Wilson, Vice President, SimVentions and Chair of the C4I DTF.
"The Cloud Working Group heard updates from the Cloud Security Alliance, with which OMG now has a formal liaison. It reviewed the plans for several future deliverables, including discussion papers on data governance, cyber insurance, cloud in the retail industry, a catalog of cloud-related standards, and a standard cloud service agreement template," said Claude Baudoin, Co-chair of the Cloud Working Group and Owner and Principal Consultant at cébé IT and Knowledge Management.
"The Finance Domain Task Force (DTF) reviewed the state of formal semantics in several areas of finance. These include lending, cashflow definition and enterprise risk management, taking into consideration the of conceptual or definitional resources available to the industry and the kinds of formal ontology model best suited to a range of business purposes. We also reviewed the status and latest submission plans for the Financial Industry Business Ontology, which is expected to bring an updated submission during Q2," said Mike Bennett, Standards Coordinator, EDM Council and Co-Chair of the Finance DTF.
"The Foundational UML (fUML) 1.5 Revision Task Force (RTF) delivered its report, which was accepted by the OMG Architecture Board and the OMG Platform Technology Committee. In addition to correcting errors in the fUML 1.4 specification, version 1.5 of fUML adds significant capabilities to the subset of UML. These capabilities comprise precise, executable semantics given by the standard, including association-owned end properties, exception raising/handling and calls to behaviors with streaming parameters. Several key participants decided to use the OMG 'Request for Comment' process to propose a new revision to the specification instead of chartering a new RTF for fUML 1.6. V1.6 will essentially align the fUML subset of UML with the subset of UML used by SysML," said Ed Seidewitz, CTO, Model Driven Solutions and Chair of the fUML 1.5 RTF.
"The Future Airborne Capabilities Environment (FACE™) Profile for Unified Architecture Framework (UAF) Finalization Task Force (FTF) was chartered at the June OMG quarterly technical meeting. During the next quarter, the FTF will publish and accept comments on the Beta-2 version of the FACE Profile for UAF. The FACE Profile for UAF will synchronize FACE™ (from the Open Group) with UAF (from OMG) to enable modeling of FACE data architecture components and data in the context of the larger enterprises the FACE components support," said Sarah Douglass, Lead Software Systems Engineer, MITRE and Chair of the FACE Profile for UAF 1.0 FTF.
"The Middleware and Related Services (MARS) Platform Task Force (PTF) published the Distributed Immutable Data Objects (DIDO) Reference Architecture (RA) version 2.0 to serve as a resource to guide the design, use or selection of DIDOs. The term DIDOs covers a broad range of distributed applications built upon distributed middleware technologies such as Bitcoin, blockchains, distributed ledger technologies, cryptocurrencies, InterPlanetary File System and Distributed Distribution Service applications. At the next quarterly meeting, we expect the adoption of the Information Exchange Framework Policy Based Packaging Service, the Space Telecommunication Interface for Software Defined Radios specification, and a proposal for a DIDO command-line Interface," said Charlotte Wales, Co-chair of the MARS PTF and Systems Engineer, Process Specialist, Jackrabbit Consulting.
"The Robotics Design Task Force (DTF) discussed extending the Robotic Service Ontology timetable for two meeting periods. We will have an online session in the September meeting to vote on updating the timetable," said Koji Kamei, Senior Research Scientist, JARA and Co-chair of the Robotics DTF.
"The Systems Engineering Domain Special Interest Group (SE DSIG) held a half-day session that included presentations on the Open Model-Based Engineering Environment, the verification and validation modeling approach for the Rubin Observatory, a model-based approach to function point sizing and the incremental update and demonstration of the SysML v2 submission. The SysML v2 Submission Team plans to present its initial submission during the next OMG meeting in September," said Sanford Friedenthal, SAF Consulting, and Chair of the SE DSIG.
For a full list of OMG works in progress, visit https://www.omg.org/public_schedule/. To participate in OMG specifications, visit https://www.omg.org/memberservices/index.htm.
About OMG
The Object Management Group® (OMG®) is an international, open membership, not-for-profit technology standards consortium with representation from government, industry and academia. OMG Task Forces develop enterprise integration standards for a wide range of technologies and an even wider range of industries. OMG's modeling standards enable powerful visual design, execution and maintenance of software and other processes. Visit http://www.omg.org for more information.
Note to editors: Object Management Group and OMG are registered trademarks of the Object Management Group. For a listing of all OMG trademarks, visit https://www.omg.org/legal/tm_list.htm. All other trademarks or registered trademarks are the property of their respective owners.