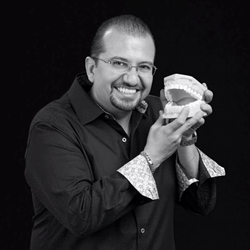 Orange County, CA (PRWEB) June 30, 2017
That extra weight around your midsection might be doing more than straining your shirt buttons. It could also be threatening your smile. A recent study revealed that excess weight increases the risk of dental problems. OC dentist, Dr. A. Rassouli, comments on the recent study linking extra weight with dental health risks.
This study, which was published in "Oral Diseases" and described on MedicalXpress.com, involved 160 Thai participants, 113 of whom were either overweight or obese. Participants were examined to determine their levels of C-reactive protein, adiponectin, leptin, and other blood markers. They were also evaluated for symptoms of periodontal disease both clinically and through X-rays. The results were adjusted for smoking status, exercise, fasting blood glucose levels, age, and sex.
Researchers found that study participants with BMIs greater than 25, or those who were obese, were nearly six times more likely to suffer from severe periodontitis than those who were at a healthy weight. They theorized that this may be due to inflammatory markers associated with obesity.
Anthony Rassouli DDS might recommend more frequent checkups for patients who are at an increased risk of periodontal disease, including patients who are overweight or obese. Periodontal disease is a leading cause of tooth loss in American adults. When diagnosed in its earliest stages, it is highly treatable and often responds well to conservative measures, such as scaling and root planing. If not diagnosed until it has reached advanced stages, oral surgery is often necessary.
Dr. Rassouli offers comprehensive dental care including:

Invisalign
One visit crowns
Dental implants
Teeth whitening
Porcelain veneers
Pinhole surgery
Gum recession surgery
Periodontal therapies
About Dr. A. Rassouli
A graduate of USC's dental school, Dr. Rassouli is committed to ongoing dental education. He served as a part-time clinical faculty member at USC, and he and his partner cofounded the South Coast Dental Academy. During his time at the University of Southern California, he served on the Accreditation and Ethics Committee where he was recognized for his academic accomplishments and leadership skills.
Source: https://medicalxpress.com/news/2017-05-extra-weight-dental.html