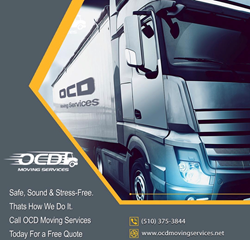 LOS ANGELES (PRWEB) August 04, 2019
Studies show that Americans produce approximately 254 million tons of trash every year. Out of that 254 million tons, Americans recycle only an estimated 34.3 percent. What that means is for an individual, 710.6 pounds are recycled, and 1,361.4 pounds of trash are thrown out every year, according to Titlemax.com. With May through September being the busiest months for moving, OCD Moving Services realizes that Americans will continue to produce even more waste. For that reason, OCD Moving Services is committing to increasing its recycling efforts during the busy moving season.
OCD Moving Services recycles and practices eco-friendly disposal procedures through its junk removal services. The company believes it's imperative to do what it can to protect this planet; for that reason, being environmentally friendly is a large part of OCD Moving Services' mission.
"We are committed to increasing our junk removal service efforts during the busy summer moving months and beyond," said Daniel England, owner of OCD moving Services. "We know how irritating it can be dealing with unwanted stuff, so we want to help our customers get rid of those unwanted items in an eco-friendly way."
To demonstrate the value of using a junk removal service, OCD Moving Services shares the following benefits of recycling and utilizing junk removal services to dispose of unwanted items properly.
The benefits of recycling have been, and continue to be, highly significant. The United States Environmental Protection Agency lists the following benefits of recycling:

Helps to reduce the total amount of waste going to landfills and incinerators
Conserves natural resources like timber, water, and minerals
Increases the economic security of the country by utilizing a domestic source of materials
Helps prevent pollution by reducing the need to collect new raw materials
Saves energy
Supports American manufacturing and preserves valuable resources
Creates jobs for Americans in the recycling and manufacturing industries
Also, as mentioned above, recycling helps to create jobs in the United States. The EPA released essential discoveries on the economic benefits of the recycling industry. The study analyzed the numbers of jobs, wages, and tax revenues attributed to recycling. The EPA's study from 2016 found that in a single year, recycling and reuse activities in the U.S. accounted for:

More than 750,000 jobs
$36.6 billion in wages
$6.7 billion in tax revenues
Recycling activities equated to 1.57 jobs, $76,000 in wages, and $14,101 in tax revenues for every 1,000 tons of materials that were recycled.
"At OCD Moving Services, we understand the value of recycling efforts not only on the planet but on the economy," said England. "We look forward to doing our part to maintain the viability of our planet and the stability of our economy by continuing to increase our recycling efforts."
As part of its full-service residential and commercial moving offerings, OCD Moving Services provides junk removal services to those planning a home or office move. OCD Moving Services' junk removal service can help to dispose of unwanted furniture, appliances, electronics, and more in an eco-friendly way. The top-rated moving company San Francisco CA is currently offering customers with free estimates. For more information, call 510.375.3844, or visit http://www.ocdmovingservices.net.
About OCD Moving Services
OCD Moving Services has been providing customers in California with residential and commercial moving services for more than eight years. The company is a full-service professional moving company that offers junk removal services, home moving services, packing services, commercial moving services, and more. OCD Moving Services specializes in local and long-distance moves for customers in the Bay Area and beyond. For more information, call 510.375.3844, or visit http://www.ocdmovingservices.com.