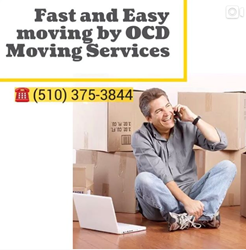 SAN FRANCISCO (PRWEB) June 20, 2019
OCD Moving Services, one of the Bay Area's top choices for local and long-distance movers, was recently featured on the Expertise.com list of Top 15 Best Oakland Movers. OCD Moving Services, headquartered in El Sobrante, Calif., made the Top 15 list because of its friendly customer support specialists and professional, efficient moving professionals. The Bay Area moving company's professionalism has gained the praise of customers both past and present via online reviews.
"We are thrilled to be named one of the top 15 movers in Oakland by Expertise.com," says Daniel England, owner of OCD Moving Services. "Our overall goal at OCD is always to please our customers. So, because this ranking is based largely on customer satisfaction, we're confident we've done our jobs. We look forward to helping more individuals and businesses execute effective moves in the Bay Area."
OCD Moving Services staff can assist with local or long-distance moves, and perform additional services such as padding, shrink-wrapping, disassembly and reassembly of furniture, piano moving, and junk removal services. When it comes to the stress of moving, no one understands better than OCD Moving Services. OCD Moving Services specializes in:

Local moving services
Long-distance moving services
Home moving services
Also, OCD Moving Services offers several services that could be helpful for those planning a local or long-distance move. Those services include:

In-house move
Apartment moving service
Short-term storage services
Packing and unpacking
Packing material
At OCD, their mission to bring quality to the moving industry. OCD Moving Services will always put their customers first and do their best to understand each customer's particular moving situation.
Expertise.com is an online research platform that identifies top service professionals in over 100 business categories across 1,000 cities. The criteria that were used to identify top Bay Area moving companies, according to Expertise.com, was the following:
Reputation: a demonstrated history of pleased customers and exceptional service
Credibility: building customer recognition and brand equity through licensing, accreditations, and awards
Experience: masters of moving, based on years of practical experience and education
Availability: consistently available and approachable, so customers never feel disregarded
Professionalism – providing service with trustworthiness, dependability, and admiration.
To determine their list of the Top 15 Best Oakland Movers, Expertise.com surveyed 102 moving companies in the Bay Area.
About OCD Moving Services
OCD Moving Services is a Bay-Area based local and long-distance moving company. The team at OCD Moving Services has consistently been a number one choice for long-distance and local movers in the Bay Area, so it's only fitting that they'd be recognized on this esteemed list by Expertise.com. OCD Moving Services' customer satisfaction rate sets them apart from any other local or long-distance moving company in California. The OCD team has ten years of experience in executing domestic and long-distance moves. OCD Moving Services is now accepting free moving quotes from potential clients looking to plan their next move. Contact the team at OCD Moving Services today at (520) 375-3844. http://ocdmovingservices.net/