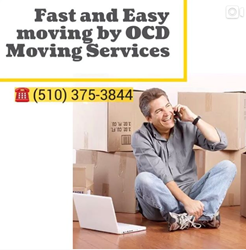 SAN FRANCISCO (PRWEB) November 21, 2019
As the 2019 moving year is coming to an end and California residents prepare for 2020, OCD Moving Services has released a few reminders to help individuals organize their move for the New Year. Individuals or companies looking to move in 2020 should prepare accordingly, especially if their move is going to require the hiring of an experienced long-distance moving company. The end of the year is always a great time for families and individuals to reassess their belongings and see how they might be able to downsize a few items, especially if they're considering moving to a new home in 2020. Downsizing and organizing become especially crucial around the holiday season as many are getting gifts, which adds to the items already taking up space in one's home.
"As we come to the end of a successful year for 2019 for OCD Moving Services, we want to remind our customers that now is the best time to get moving on organizing your home, especially if you're planning a move for 2020," says Daniel England, owner of OCD Moving Services. "We want to help those looking to organize their home or prepare for a move, do it in a way that's energizing and efficient, not stressful and draining."
OCD Moving Services says there's no better time than now to start preparing yourself for a move in 2020, so here are some tips the company is providing for those looking to hire long-distance movers at the top of next year.
Consider if you will hire a long-distance moving company
If you are planning a move in 2020, you should consider whether or not you want to hire a long-distance moving company. A reliable long-distance mover, like OCD Moving Services, will provide timely responses, fair rates, and guarantee you that your items will arrive from your old home to your new home safely. When considering which long-distance movers to hire in 2020, do your research online and find those with five-star ratings, like OCD Moving Services. Those moving companies with high ratings are proven to have shown their competency over time. It's also imperative to research movers long before you need to hire one, so you have plenty of time to do your thorough research.
Get started early on downsizing
Before you even think about packing, OCD Moving Services recommends that individuals first go through their items and decide what they want to take to their new home and what they want to leave behind. OCD Moving Services reminds individuals that there are plenty of things to do with their old items, such as donate them to a charity or the Good Will. Once you know what you're taking, you can start packing.
Pack early
OCD Moving Services reminds customers of the benefit of packing early. One of OCD's main goals when planning a long-distance move for its customers is that it's done hassle-free and stress-free. The best way to prevent any last-minute stress during a long-distance move is to pack early. OCD Moving Services would also recommend enlisting a long-distance moving company offer the packing services, to save you time and guarantee that your items will be moved safely and securely.
Make sure everything is properly labeled
One of the most significant parts about Bay Area long-distance moving is making sure all of your items are correctly labeled in-boxes. By the time your items arrive at your new home, you may forget what was in each boss. For that reason, make sure you label everything so that unpacking is just as stress-free as packing was.
Don't forget to relax
One of the most essential parts of moving that OCD Moving Services reminds its customers of is that moving, especially in the New Year, should be enjoyable. With the New Year comes new beginnings, and that is a reason to celebrate this season of change, says OCD Moving Services.
Individuals or businesses who are looking to make a long-distance move in 2020 can call OCD Moving Services for a free quote. To schedule a free quote, visit http://www.ocdmovingservices.net, or call 510-375-3844.
About OCD Moving Services
The expert Bay Area long-distance movers at OCD Moving Services have been helping people execute stress-free moves for over five years. The team at OCD Moving Services can handle anything from local and long-distance moving to large and small moves and commercial and office moves. In addition to free quotes, the expert long-distance moving company, OCD Moving Services, offers all customers free shrink-wrap, free loaner wardrobe use, and free TV protection.